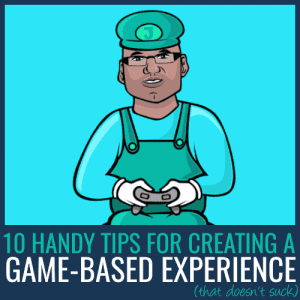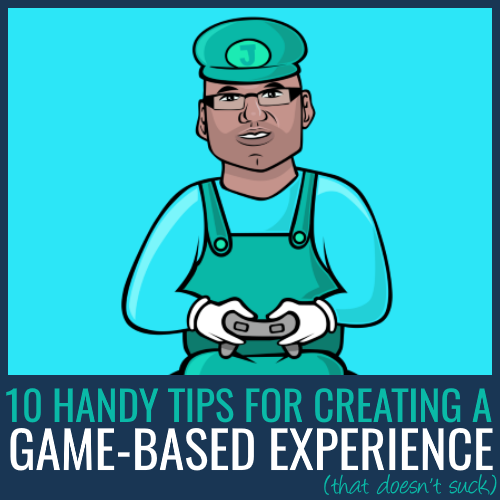 So, you've decided to take learner engagement seriously and you've heard that game-based learning is the way to go. It's no news that gamification is taking the world by storm. It's predicted that the gamification market will surpass $10 billion by 2020 and 87% of retailers plan to use gamification to engage their customers between now and then – so it's pretty massive!
However, in all of the fervour to jump on the gamification gravy-train, several initiatives have fallen flat on their faces. Gartner predicted as much way back in 2012, so… what happened?!
The main cause for these failures have been poor design and poor alignment with the core goals of the business. Well we don't want that to happen to you, so we've drawn up a list of handy tips to make sure you have a soaring game-based learning experience – not a boring one.
Figure out the Epic Meaning
The Epic Meaning is the frame that holds your entire project together. This defines what makes your business tick, what matters to you and your overall mission. All good games have a narrative that helps the player (or in this case, the learner) identify their place in the bigger picture. This is an essential factor in getting the learners' buy-in.
Align to business objectives
The vision and values that support your organisation should filter down through every aspect of the game-based learning initiative. By aligning the activity to the business objectives, you ensure that you're motivating your learners to progress and to contribute to your overall business goals.
Use the right tech
Make sure your means of delivery is up to the task of generating meaningful engagement. You can't hope to bewitch your learners if your LMS is plagued with usability issues and it looks like its last UI overhaul was in 1995. A learning platform that supports gamification and social interactions will be a big help, but make sure that it has enough custom options to let you craft the perfect journey for your learners.
Pick your team
As with so many things, it's the people behind a project that largely determine its success. Take time to evaluate your resources – is your design department up to the task? Does your tech team have the necessary experience? Are your instructional designers and SMEs savvy with the theory of games and gamification?  Before you start down the yellow-brick-road of game-based learning, make sure you've got the support you need to make it happen!
Don't ruin a great system with bad content
Some people still think it's enough to use a gamified LMS to deliver the same dull content they would on any other system. To create a game-based learning experience, you need to commit to it on every level. This doesn't mean that every piece of content needs to be a game – but it will be a lot more effective if it's tied into the epic meaning.
Add more interactions
The eLearning units of days-gone-by might have demanded your learners' attention for at least 15 minutes at a time, without giving them an opportunity to interact with the learning. Games are engaging because they are interactive by nature, but also because the player knows immediately if their interaction was a good one or a bad one. This constant, instantaneous feedback is key to real behavioural change.
Give each learner a unique experience
The video games industry is so successful because it gives consumers what they want – and it appears that players want their decisions to have an effect on the course of the game. A game-based learning experience needs to allow the creation of learning pathways specific to the needs of individual learners. If your learners feel that they are in control of their destiny, they'll be more likely to take ownership of their professional development.
Test it
Games work so well because they have clear rules. Part of the joy of playing a game is discovering these rules and adapting to them. The game mechanics in a game based learning environment need to work according to a set of rules. Take a points-based level mechanic for example; the learner needs to earn enough points to pass a particular level, but if poor level design doesn't allow this, the learner will be frozen on their journey. Luckily, with some rigorous, pre-launch testing, these things are easy to spot.
Build anticipation
The last thing you want to do is to spring a brand-new gamified learning platform on your unsuspecting learners! If you don't make the effort to drum up a bit of excitement, the best you can hope for is mild apathy. Your online learning roll-out shouldn't be announced with a simple email – you should rally your troops, emphasise the importance of the activity and make sure each learner knows their part in it.
Get feedback (surveys & usage reports)
Now that your game-based solution is up and running, you can sit back and relax, right? WRONG! You now have the task of fine-tuning and finessing the platform to get the best results. A solid reporting tool will let you know (among other things) who is learning what and how often they are visiting. Your system should also let your learners rate each piece of content they consume, letting you know whether or not they find it useful.
A game-based learning experience can boost learner engagement and change behaviours, but only if you avoid the pitfalls. If you're just branching out towards gamified online learning, or you've been in the game for a while, these tips will help you get the most out of the tools available to you.
If your appetite for useful tips hasn't been satisfied yet, download our tip sheet: 34 Top Tips for Using Gamification in Online Learning.