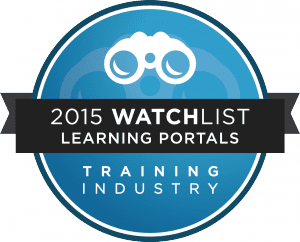 Can you hear that? Sounds like a drumroll… That must mean only one thing! That's right, we've filled up another spot in our ever-growing awards cabinet!
This time we've made an appearance in Training Industry's Top Learning Portals Companies Watch List. That's quite the mouthful, but it basically means that they consider us to be one of the best companies in the world to turn to when you need a learning portal.
Of course, this is down to all the blood, sweat and tears we've poured into our gamified, social Academy Learning Management System. Our development team constantly works its socks off to make sure it's the most engaging learning platform you'll find in this end of the Milky Way!
Training Industry spotlights the latest news, articles, case studies and best practices within the training industry. They're constantly monitoring the training marketplace for the best providers and services to highlight in their various Watch Lists.
Here's what the Learning Portal judges were looking for:
New and innovative service
Unique approach to delivering learning solutions
Commitment to improving learning through technology
Quality of clients
Our Managing Director Juliette Denny has been bouncing around the office all day. We managed to talk her down from the ceiling briefly so that she could share a few words:
"We couldn't be happier to make this list! It's simply awesome that our company is making such a massive impact on the world stage. We're living up to our name and growing quickly as a company at the moment, so we're looking forward to countless bigger and better things to come."
---
If you'd like to find out what the Training Industry judges saw in our Academy LMS, why not take a free tour for yourself?
[hs_action id="7083″]