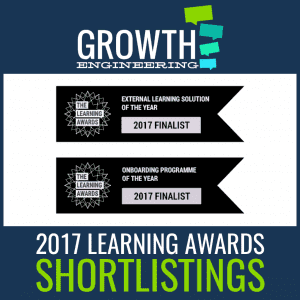 Whenever it seems as though awards season is dying down, another announcement inevitably pops up to spark another wave of excitement.
This time we're excited because the shortlist for the 2017 Learning Awards has been announced, and even more excited because we've made two appearances on the list!
The Learning Awards are run by the Learning and Performance Institute and attract hundreds of entries from across the globe. They represent the highest achieving individuals and organisations in the field of learning and development, and each shortlisted finalist must demonstrate exceptional performance and contribution to the learning profession.
But what's even better is that these two sports on the shortlist aren't just for us, but rather for work with some of our incredible retail clients! Let's look at who's in the running, and what they've done to get there in the first place.
House of Fraser
House of Fraser has reached the shortlist in the 'External Learning Solution of the Year' category. They approached us wanting to put our gamified, social Academy LMS to use, and we built 'House of Learning' for them. Now they're using this platform to deliver training to their workforce across the nation!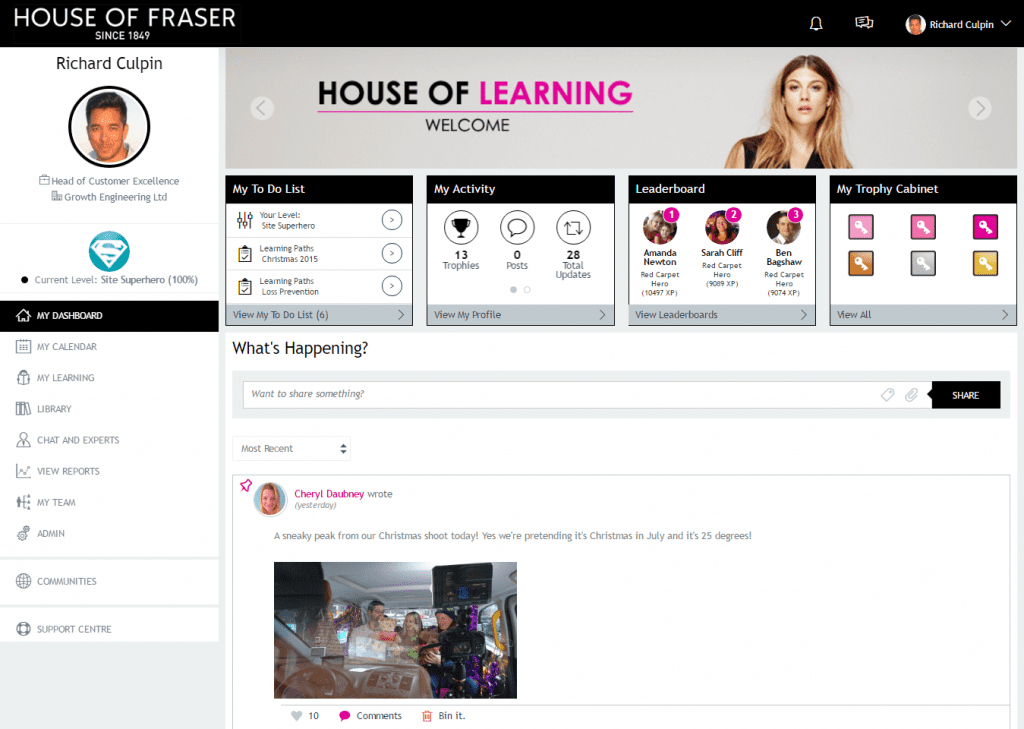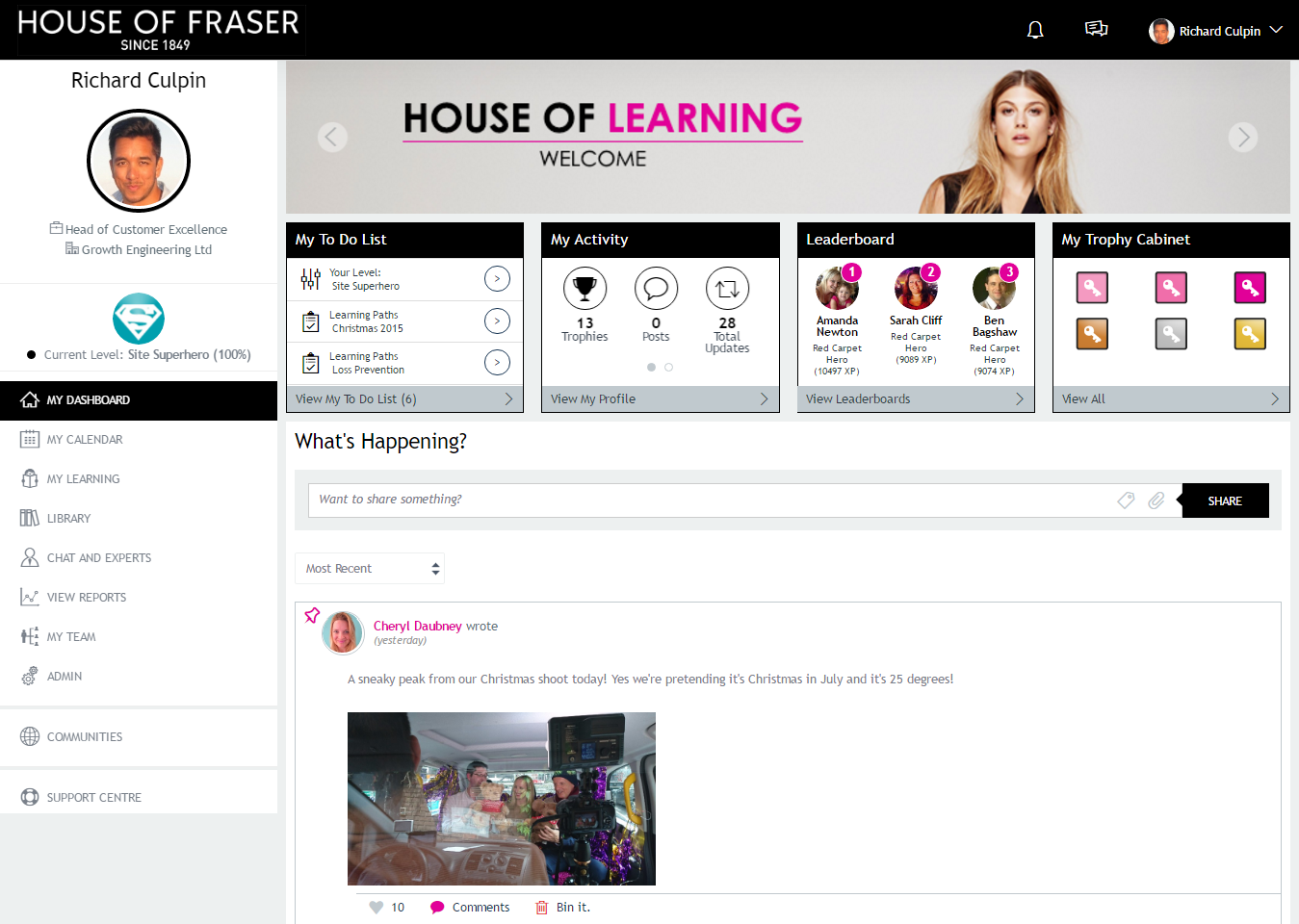 Their robust training programme is structured around role-based learning paths, personal development, and just-in-time business-focused resources.
Their learners are extremely engaged, the training is cost-effective, staff performance is on the rise, and fewer employees are leaving the company. It's clear that the hard work is paying off, and we see nothing but further success to come!
Steinhoff
As if House of Fraser's achievement wasn't enough, Steinhoff UK Retail has also been shortlisted in the 'Onboarding Solution of the Year' category. Their platform is named 'Steinhoff Learning Store' and is used to organise a truly blended learning programme for Steinhoff's UK businesses – Bensons for Beds and Harveys.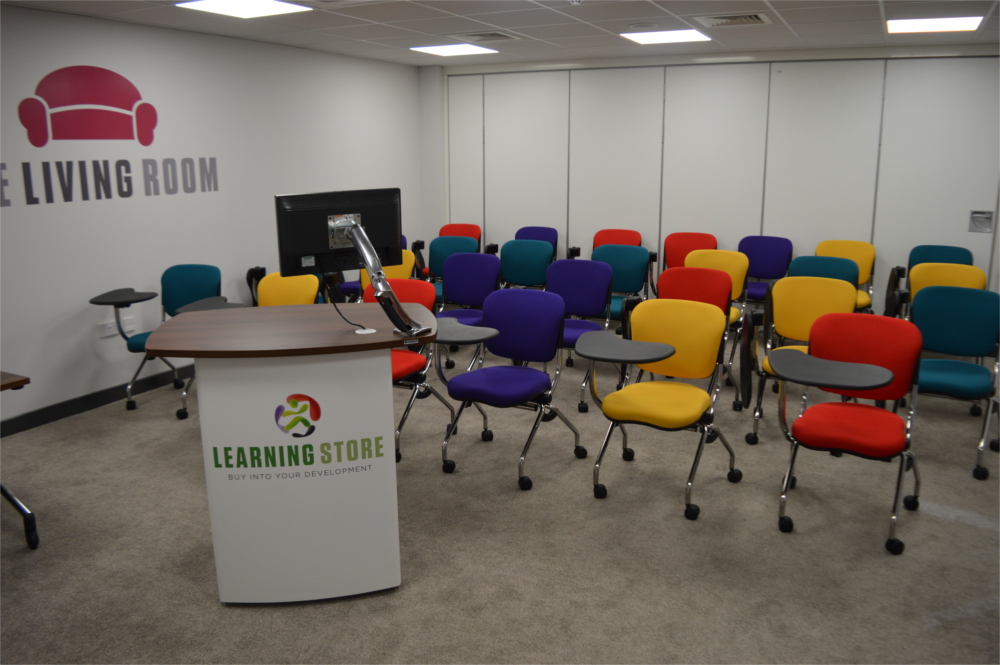 We've been working together for five years, but the most recent development has seen Steinhoff invest another £1 million into the project to build the astounding 9,000-square-foot Steinhoff Development Centre. The blended approach has learners access the online Learning Store from the classrooms, and then head to mock stores, warehouses and customer homes to put their learning into practice!
Since opening, every single new starter to the business travels to the Development Centre for a week-long, intensive, blended course, before they get the chance to step inside a store. The approach has slashed attrition rates and is having a huge impact on sales figures.
What's next?
With these places on the shortlist secured, now we just need to convince the judges that we deserve to go all the way. We'll be stood alongside our clients in November to present our case directly to the judges.
Then after that, we'll be hanging up our capes, donning our tuxedos, and strutting down to Park Lane for a swanky Awards Ceremony at The Dorchester. Keep an eye out for more news then!
If you'd like to find out why our Academy LMS captures the attention of so many awards judges, why not take a closer look? Book yourself a free tour to see the platform first-hand: