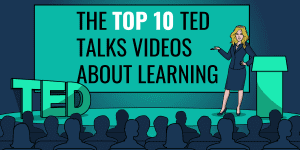 TED Talks are unquestionably popular and undeniably awesome.
They give knowledge lovers across the globe an opportunity to gather around their screens and upskill on a huge variety of topics! Knowledge lovers alike gather around their screens to upskill on a huge variety of topics.
Social media, technology, entertainment, design, business, global issues and science are just some of the categories in TED Talks. They even have categories on love and magic!
As learning and development torchbearers and learning technology advocates, it's the education category that we're particularly passionate about. With that in mind, let's take a look at 10 of our favourite TED Talks about learning!
---
1.The Life-long Learner – Bernie Dunlap
Bernie Dunlap is the multi-talented president of Wofford College. In this impassioned TED Talks speech, Bernie tells the inspiring story of his friend, Sandor Teszler, a Hungarian Holocaust survivor. The story details the suffering that Mr Teszler endured, but drives towards an important and encouraging message.. Mr Teszler outlasted this suffering and his very last days were lived with humour, kindness and above all else, an unquenchable thirst for knowledge.
2. Learning How To Learn – Rodrigo Arboleda
Rodrigo recites the story of a Colombian priest, who in 1948, armed the impoverished locals with the newly invented transistor radio. He then set up a radio station where he educated and informed the unschooled inhabitants. This grew and grew and by his death in 1980, the priest had educated an estimated 4.5 million people!
Rodrigo used this as a catalyst for his own story. Along with the president and former presidents of Columbia, Rodrigo set out to equip every child in Columbia with one laptop/tablet each. In this TED Talks special he states that he wants to 'Maintain the spirit of curiosity that you get in children.' This is an important TED Talk about the significance of mass education and enthusiasm for learning.
3. Learning Styles And The Importance Of Critical Self-Reflection – Dr. Tesia Marshik
Dr Tesia Marshik breaks down rather wooden educational structures and investigates the benefits of actual experience. Discussions include mixing multiple sensory experiences to present the best learning approach. Dr Marshik goes on to examine an array of compelling arguments against learning styles. Are we wasting time and resources promoting audio, visual and kinetic learning? Overall, this TED Talks promotes a positive message: All of us are capable of learning in a variety of ways.
4. The Nerd's Guide To Learning Everything Online – John Green
In this compelling TED Talks clip, John Green discusses how he came to be a passionate and committed learner. In 10th grade, he attended a boarding school where intellectualism and engagement were celebrated. This community of ardent and enthusiastic learners installed in him the same thirst for knowledge that they shared. We also study the importance of engagement in our Engagement Engine. In this interactive workbook, we share our secrets on personalisation and social learning to help you plan your own strategy.
5. Let's Use Video To Help Reinvent Education  – Salman Khan
The basics of learning can be carried through from classroom to the work environment. Salman Khan argues that the methods used to teach should be thrown out the window. Just as he believes pupils should be taught maths and science via video, employees can be trained using video too. The days of picture-less educational books may have long gone, but it's always good to have a reminder of why. Mr Khan additionally discusses the power of interactive exercises. This is exactly what we preach here at Growth Engineering, with our game-based authoring tool, Genie.
6. Let's Teach For Mastery, Not Test Scores – Salman Khan
Salman Khan appears on our list twice because of his dedication to education! Just like schools, some organisations rush workers through tests during training, rather than focusing on getting the basics right. Mr Khan uses the metaphor of building a house on top of an unfinished foundation to underline his point. Here, he makes some very refreshing points. The time we have to master a topic is variable, whereas the end goal of mastering it is fixed. Salmon argues the case for a more personalised learning process. This is something that is also very important to our own foundations.
7. Bring On The Learning Revolution – Sir Ken Robinson
An oldie but a goody. This great TED Talks was recorded in February of 2010. It's rather timeless in its concept, however. Rather than considering the latest in learning technologies, Sir Ken philosophizes the authentic-self, our natural talents, the educational system and personalisation. He disputes the basics of the educational structure, and how we need to disenthrall ourselves in order to revolutionise it. This can be related to schools as well as the workplace. Perhaps Sir Ken had a glimpse into what was to come, as personalisation is now a major factor within learning. Sidenote: Listen out for the great quote from Abraham Lincoln!
8. How Games Make Kids Smarter – Gabe Zichermann
We're big on our games, as is Gabe Zichermann. Here he talks about how gaming can actually make children more productive. If children have grown-up playing computer games for over four decades, then why not shift the format to adult learning in the current age? It's what this generation is used to, after all. Gabe speaks passionately about gamification, and how he is the author of two gamification books. Gabe puts forward some stimulating points. He states that modern young gamers juggle voice chats and text chats with operating a character through short-term and long term objectives. Consider that they do this while processing mind-bending graphics, and you've got yourself a competent problem solver! The point is, lots of skills can be learnt from computer games, and we totally agree! Check out our free downloadable guide on game-based learning.
9. Smash Fear, Learn Anything – Tim Ferriss
Tim's inspiring story initially takes you back to when he was a kid. He explains that since the age of seven, he'd experienced quite an extreme fear of swimming. As a matter of fact, it took Tim until the age of 31 to deconstruct his fear and learn how to swim. He did this by setting an end goal, something he skims on when he mentions Parkinson's Law. From Tim's experience, it's what you do, not how you do it, that will get you over that learning curve. There are two important points to be made in the clip: 1) It's never too late to learn, something we cover in our great neuroscience blog: 'The Magic of Plasticity: Why It's Never Too Late To Learn.' and 2) Don't be afraid to learn new things. Be it swimming, maths, or the inner workings of a brand new job sector.
10. The Call To Learn – Clifford Stoll
We're ending on an extra fun TED Talk! Clifford Stoll is an American astronomer, author and teacher. In this clip, Cliff explains the importance of curiosity and learning. He does this is his own energetic and formidable way. He bounces from one end of the stage to the other, manically enthusing about science and learning. His point, as he so puts it, is this: 'Once I do something, I want to do something else'. Cliff's thirst for knowledge will fire-up even the most traditional of obstructionists!
---
We hope you have enjoyed these TED Talks videos as much as we did. All of them are amazing in their own ways. Conveying the importance of learning is a passion that each speaker holds dearly, just like we do.
If you're also passionate about learning in an engaging way, then check out our amazing Academy LMS.