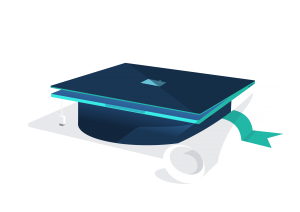 When planning out a training programme, you need to think carefully about the types of content you're going to offer.
Will you be blending face-to-face training with online training? Will you be using a lot of videos? What sort of tone do you want to set with your content?
But something else to consider is the potential to get your training programme and its content accredited by an esteemed industry body! Let's look at what accreditation means, and why it could be worth going for.
Accredited Training
For a training programme or training content to become accredited, it will need to be approved by a reputable institution. This seal of approval is proof that the training is of an exceptionally high standard, and guarantees that the training will teach skills to the learner.
One of the biggest bonuses offered by accredited training is the opportunity for your learners to earn qualifications. Needless to say, these can be a huge motivator for your learners, since it's clear to them that the training is providing them with real value.
Using accredited training is also a means of getting external quality assurance for your programme. Your learners will need to be assessed against the accrediting institution's strict criteria before they'll dish out any qualifications. If they're happy with these assessments, then you can be sure that you're effectively developing your learners' skillsets.
Accredited training can involve more work than other training because you need to keep proving that you're meeting the required standards, but the rewards for your efforts are ample justification!
Becoming an Accredited Training Centre

If you want to deliver accredited training to your workforce, then one option is for your organisation to become an accredited training centre. You'll need to reach out to any institutions that are relevant to your industry.
They'll want to have a good snoop around your training programme before they make any promises. After all, they need to be sure that this is something they want their name attached to! So you'll need to prove to them that you're able to deliver the quality of training that they're looking for.
If the institution is able to provide qualifications for your learners, then they'll still need to see evidence that your learners are meeting their standards. This evidence is usually gathered in the form of assignments written by the learners, where they demonstrate their understanding of each topic and show how they're putting it into practice.
Off-the-shelf Accredited Training
Another option is to go to a training provider and license their off-the-shelf content. Most accrediting institutions will have lists of approved providers, who will have full libraries of content for you to make use of. All of this training will already have been fully probed and approved by the accrediting institution, so it can be used without any fuss.
For example, we offer sales training content accredited by the Institute of Sales and Marketing Management. Our clients are able to license this content from us and deliver it to their learners, who can then earn Certificates and Diplomas in Sales and Marketing.
This is much simpler than going through the process of becoming an accredited training centre yourself, but you might still need to use assessments to prove that your learners are meeting the standards. So keep that in mind as you plan out your training programme!
Keep an eye out for plenty more entries into our Online Learning Glossary over the coming weeks!