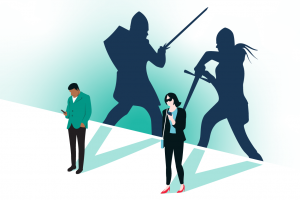 The 'Roaring' 1920s was a time of considerable innovation in technology, science, education, and… Jazz! 
With the introduction of mass production, mass advertising and the widespread installation of home electricity, a flurry of new careers were born too. Just as the workplace had moved forward, L&D had to keep up as well. Training programmes became more established, more robust, and a new standard in most industries. 
A hundred years later and history seems to be repeating itself. We may not be seeing a new age of Jazz just yet, but the L&D industry will have to ride on the forefront of a new wave of technology. 
So, who are the influential leaders at the top of this crest? Who are at the cutting edge of the latest happenings in learning and development? Who are the top 20 L&D influencers, movers and shakers of 2020 and beyond?
Strap yourselves in. Here are some of the best authors, consultants, speakers and specialists in L&D. From established favourites to the new kids on the block, it's going to be a heck of a learning curve!
The 20 L&D Influencers You Need to Know About in 2020
Without further delay, and in alphabetical order, here's the list you've all been waiting for!
Dr Britt Andreatta, PhD, is an international thought-leader who uses neuroscience and psychology to unleash the best performance in learners and organisations. She is also the CEO of 7th Mind, Inc; a training organisation who focuses on brain-based learning. Her book, 'Wired to Grow: Harness the Power of Brain Science to Learn and Master Any Skill', her training programmes and her LinkedIn courses, make Dr Andreatta a worthy starter to our list!
Amongst many other pursuits, Josh Bersin is a well-respected global analyst and public speaker focusing on recruiting, leadership and learning. He is the founder of Bersin, an acclaimed provider of membership programmes of HR, talent and learning. 
Josh's expertise in HR technology makes him a key industry figure when looking to the future of L&D and how technology will play a huge part in its evolution.
Brendon Carson is a cutting-edge e-Learning strategist, learning consultant and an award-winning Learning and Development executive. He has comprehensive knowledge in creating robust learning strategies. Similarly, he is an expert in implementing learning technologies for a mass of global businesses. He has worked with some of the world's leading technology companies. These include Apple, eBay, Yahoo, and Microsoft, to name a few!
Jane Hart is the founder of The Centre for Learning and Performance Technologies. This is one of the leading global L&D websites when considering the latest learning trends, learning technologies and apps to aid with the learning journey. Her work in advising companies over the past 25 years has led to Jane developing a reputation as a guru when it comes to modernising the L&D strategies of businesses worldwide.
Harold is a keynote speaker and a consultant specialising in workplace collaboration, organisational learning and the growing importance of knowledge sharing. His vast array of clients include Domino's Pizza, Carlsberg and the Prime Minister's Office, Finland. With a collection of worldwide companies singing his praises, he's a one-man army fighting the war for squeezing the best out of your talent capitalising on your intellectual capital.
Over his 40 year plus career, Charles has become one of the world's leading thinkers and specialists in learning and development. He is co-founder of The 70/20/10 Institute; an out-of-the-box, global consultancy within L&D. The 702010I break out of the confines of traditional L&D teachings by using the 70/10/10 Model as a framework for all their major strategies.
David is the Executive Vice President and Executive Director at The eLearning Guild. He has a wide-spanning history of working in Learning and Development which has seen him advise on L&D innovation, organisational L&D and the technology which is shaping the way we learn. David's talks are not ones to be missed! We cannot wait to hear what Mr Kelly has to say about the exciting decade in front of us!
In his own words, Rob's passion is to 'Help people become successful.' Since graduating in 1985, Lauber has worked his way up L&D departments to become the Chief Learning Officer at McDonald's. As a fast-food chain that employees hundreds of thousands of people worldwide, McDonald's needed an expert in tech-driven automation, learning apps, and analytics at the helm. Keep an eye on Rob Lauber's next move, it's going to be interesting…
Being the CEO and Lead Analyst of Talented Learning, John is without a doubt among the most insightful analysts in the industry. Talented Learning was named in the Top 20 eLearning Movers and Shakers of 2017 and 2018. John is also an individualistic, unconstrained LMS advisor, blogger and podcaster. His wildly successful work as an L&D strategist with various corporations makes Mr Leh among the most experienced in the industry!
With nearly 30 years in the industry, Elliot Maisie is a name that is known in L&D circles all over the world. Why? This key figure in L&D is an engaging speaker, analyst, researcher and educator who entertains with his global seminars and conferences. He leads The Maisie Center; a research institute which concentrates on how companies can utilise knowledge and learning within their teams. He's cooperated on learning strategies with Amazon, American Express, Walmart and McDonalds, to name a few!
A hefty amount of L&D professionals know the name Michelle Ockers. Michelle primarily provides key direction advice to a wealth of global organisations, but she does so much more. Whatever the industry, or size of company, Michelle uses her vast expertise to unleash the best learning approaches possible. From designing and implementing a learning academy for Coca-Cola Amatil, to reshaping the Learning and Development across Qantas Airways, Michelle has a lot to offer.
Laura Overton is a name known to nigh-enough everyone in the L&D industry. She is the founder of Towards Maturity, a non-profit company that publishes independent research. She has nearly 30 years experience within L&D and has helped numerous companies improve performance through learning innovation. The long and short of it, she's an L&D machine!
Craig Weiss is the CEO and lead analyst of the Craig Weiss Group. The Craig Weiss Group provide advisory, consulting and analytics services for companies worldwide. The Craig Weiss Group run the ONLY Learning Managing System search engine and Craig's wildly popular blog 'E-Learning 2-47'. His blog is read in a whopping 174 countries! Craig is always on the forefront of LMS innovation. If you want to know how the 2020s are going to be shaping up for L&D, then follow Craig! 
And It Goes Without Saying…
How could we write this list without mentioning our very own gamification and learner engagement expert, Juliette Denny! Juliette founded Growth Engineering in 2004. Since then, she's taken the company from strength to strength. Armed with her passion for learning, Juliette (and her team!) have won a shelf full of awards for their hard work on Growth Engineering Learning App, Growth Engineering Authoring Tool and Growth Engineering LMS. And this is just the beginning. The 20s are set to be our most exciting and innovative years yet!
Top 5 Under 30 L&D Influencers

As a special treat, here's 5 up and coming players in today's L&D game that we just couldn't miss on our top 20 L&D influencers list in 2020. Make sure to keep an eye on:
Korbyn Behl is currently the Global Manager of Learning Delivery at Expedia Group. He's also a people leader in L&D, a public speaker and a promising relationship builder.
Jeremy is a skilled L&D professional who has distinct abilities in designing and implementing training programmes and creating training initiatives. The splash he's already made at Facebook proves that this young man is going far over the next decade!
Bailey is a Learning Experience Designer who is impassioned about creating and delivering learning solutions! In her own words, she's 'Results-driven' and thrives on collaborating with her customers.  
Andrea Goodwin is an experienced Instructional Designer who is motivated by creating engaging eLearning programmes. With her skills in marketing, learning theory and creative writing, we have a feeling Andrea will go far!
Like everyone on our list, Karah was featured on the 'Learning Leaders 30 Under 30' list of 2019. Karah's experience is based in the finance industry. As a result, she uses her vast knowledge of data analysis, teamwork and public speaking to push for results.
Final Words
There you have it! Our top 20 L&D influencers in 2020. Due to their vast knowledge in learning and development, these key figures know exactly what training trends to expect in 2020 and beyond. In such a fast-paced industry with ever-evolving advances in technology, it's going to be a rip-roaring ride!
Click here to get in touch with Juliette and find out all about our awesome learning products!