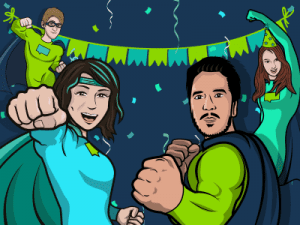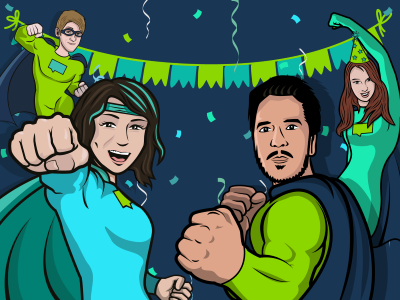 On 1st November, 'oohs', 'ahhs' and 'we want more', ringing out of Windsor's historic Guildhall. No, it wasn't an early indoor firework display! It was Growth Engineering's annual customer conference, The GETOGETHER 2017.
Our awesome customers flew in from around the world and truly wowed us and each other at this year's GETOGETHER. The event celebrates everything our customers have achieved over the past year. And boy, have they achieved a lot! So I want to say a massive 'thank you' to everyone who could make it! 
---
For our customers the GETOGETHER was also an opportunity to meet each other, share ideas and see how others use Growth Engineering's products, such as the Academy LMS. The GETOGETHER is a social learning extravaganza of epic proportions!
If you couldn't be there, don't worry, there are only 365 sleeps (give or take) until the next GETOGETHER. In the meantime, read on for all the juicy details and ideas from this year's event – it was a firecracker!
Customer Showcases: Knowledge Sharing In Action!
Now for the good stuff! This year's conference was packed full of more customer case studies and showcases than ever before! This chance to share ideas is what our customers were really excited about! So, without further ado, here are the top highlights from the GETOGETHER 2017 showcases.
1. Topps Tiles
First to take to the stage were John Shaw and Helen Hughes from Topps Tiles, Britain's biggest tile specialist, with over 300 stores nationwide. They told the GETOGETHER about their fantastic training platform, theHUB, which launched in January 2017. Helen said: "theHUB has already become part of the fabric at Topps Tiles. Our learners are still super engaged."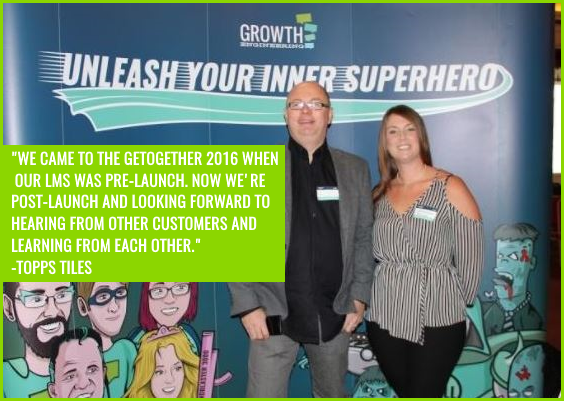 Topps Tiles have some awesome ways to keep staff engaged with the platform's features and training. Take the fabulous 'L&D Guru' for example! Inspired by the Stig, this anonymous virtual admin posts on theHUB's messageboards welcomes newbies and answers learners' questions on the platform. His mission is to help learners and keep engagement levels high.
Helen said: "The L&D Guru has been so successful, we're now looking to expand his role – maybe create a guru family!" The idea of a friendly, non-corporate virtual admin was a big hit with customers at the GETOGETHER, with many saying they now plan to use similar ideas on their own LMS.
Tech Data's Gayatri Iyer said: "I'm enjoying hearing ideas and getting information on how to increase user engagement. I really liked how with Topps Tiles, everyone across the organisation, including the CEO, shares their day-to-day experiences on the message boards."
Click here to read the full story of Topps Tiles' success!
2. Tusker
Lauren Dearden and Jodie Monaghan from Tusker, the UK's leading employee car benefit's company, were up next. The company call their LMS Tuskerville, 'The land of the superhero' and it's easy to see why! They have created an awesome superhero theme that runs throughout their LMS, and brings the learning journey to life.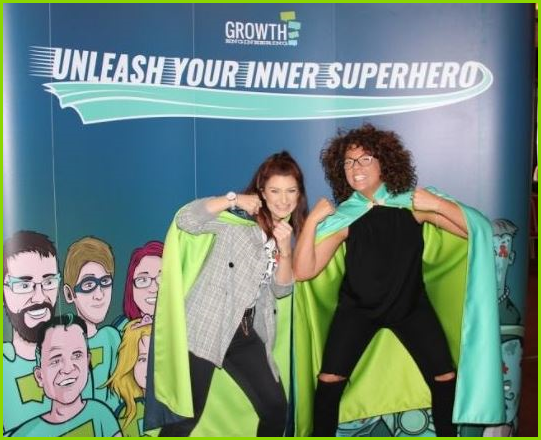 Tusker use the superhero theme to build Epic Meaning into every part of their platform! For example, each level has a superhero theme – learners start out as 'New Starters' and move through the levels of 'Rookie,' 'Side-Kick,' and 'Hero'. Eventually, they reach the pinnacle of their development and are crowned 'Superheroes' on the platform! Gamification features like this show learners how the training benefits their career development and unleashes their inner superhero!
Tusker also showcased their other innovative engagement ideas, like the brilliant 'advent calendar' which invites learners to open a door every day in December on the LMS. Each door reveals a mix of either training-related reminders and promotions or fun content, to keep learners smiling in Tuskerville! This idea was popular with the GETOGETHER audience because it is a super way to build excitement on the LMS and engage learners.
3. Personal Group
Prior to implementing the Academy LMS, Employee benefits company, Personal Group, had lots of field-based sales staff who needed to travel long distances to attend classroom training. They wanted an LMS that would make training more efficient and engaging. Enter the Academy LMS!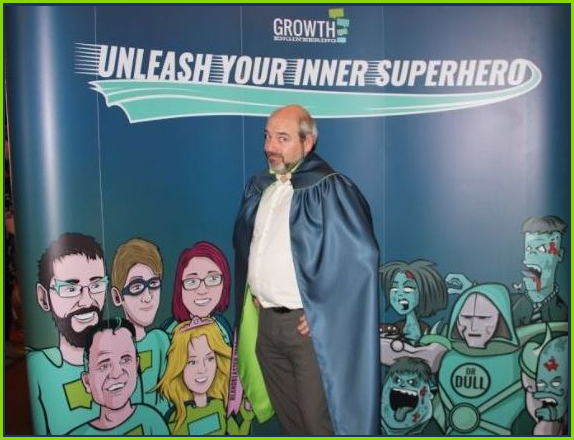 Personal Group's Martin Lay was at the GETOGETHER. He explained how their new LMS has made their sales training more efficient because staff no longer need to spend copious time travelling to classroom training. They can access online training whenever and wherever they need to!
Personal Group's new online learning platform has also led to massive benefits for their onboarding process. Martin said: "We can now push out online sales training and welcome videos to new starters on the platform. This means many employees feel like they already know everyone on the team before they arrive on their first day!" He also explained that if new starters missed previous sales training they are now able to catch up via the online videos immediately, rather than having to wait until the next classroom course. Brilliant news!
4. PageGroup
Specialist recruitment company, PageGroup, had a truly global challenge on their hands, as they aimed to launch a global LMS to be used by all of their regional teams. The task is a big one and the company plans to fully launch their new LMS, Boost, in 14 European countries alone in 2018. So, how are they doing it?!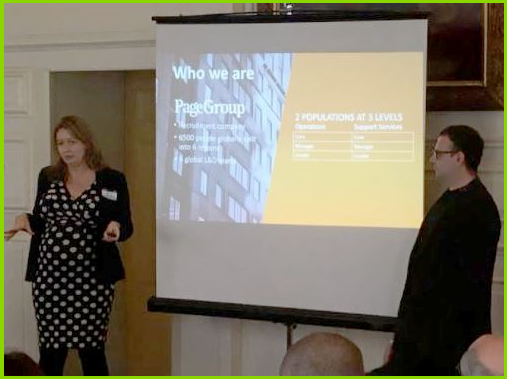 They shared three important factors for success at the GETOGETHER:
Building employee excitement for the new LMS
Empowering regional teams to take ownership of their platform
Using microlearning to keep post-launch engagement levels high
PageGroup has already launched their new LMS is some countries. They used launch events and a virtual Admin called 'Captain Boost' to bring the LMS to life. Each regional L&D team took ownership of these events, to raise awareness for the new platform among their learners. Handing out free 'Boost' chocolate bars helped get everyone excited too!
Following the platform's rollout, PageGroup is keen to keep the engagement levels high by using microlearning to drip feed training content to learners. Microlearning is also a great way to reinforce communications on Boost and encourage learners to use the platform's social features.
5. Maxpert
Maxpert is a training management company, selling certified training courses to the consumer market. Their mission is simple: "to provide the world's coolest eLearning training!" We are delighted that Maxpert chose the Academy LMS to make this dream a reality for their customers! Their Head of Training Development, Thomas Noeller, was at the GETOGETHER to share what they've achieved so far on their platform.
Just like Topps Tiles and PageGroup, Maxpert use a mysterious virtual admin to engage learners. You guessed it, he's called Max! Much like the L&D Guru, this friendly fellow welcomes everyone to the LMS and answers learners' questions. Max is an important feature that engages learners with the LMS.
Thomas also told us how video content is at the heart of Maxpert's eLearning customer offer. Combined with compelling graphics and interactive virtual classrooms, video learning is a big hit with their learners! Thomas said: "We now plan to make the learning even more interactive to deepen the learner experience."
6. Aggregate Industry
Aggregate Industries sell many of the materials needed to build the environment we all live, work and play in. That's everything from concrete to asphalt (and many others I can't begin to name!). Aggregate's David Butterfield told us that their employees are a passionate bunch! They love the materials they work with and sell. However, they need the right sales training to be able to get their prospective customers as excited about their products as they are! This is where the Academy LMS (in combination with high impact sales training, accredited by the ISM) helps.
They use their LMS to ensure all their sales staff have accredited qualifications. Aggregate use a blended learning programme focused on training and coaching that creates lasting behaviour change. Now training on the LMS means their sales teams can learn wherever they are, rather than having to travel miles to attend a classroom course. This creates efficient training and keeps their field staff where they need to be – selling!
One thing shone through from David's showcase – Aggregate's unyielding passion for continuous investment in employee development. They continued investing in employee training during the economic downturn and their strong learning culture remains a big part of Aggregate Industries today. Long may it continue!
---
And the Winners Are…
We couldn't hold an event all about celebrating our customers' success, without including some glittering awards! So, the winners of our customer GENIUS Awards 2017 are…
Gamification Guru: GAME…
The leading video game retailer in the UK and Spain won for their innovative use of gamification features on the Academy LMS. They successfully bridged the gap between virtual rewards and real-world benefits. Click here for more about how their award-winning LMS has transformed GAME's customer service training.
Seriously Social: Topps Tiles…
For bringing their employees together with social features on the Academy LMS. On top of their fab innovations like the L&D Guru, everyone at the organisation, from CEO to new sales assistants, are encouraged to regularly share on the 'What's Happening Wall.' Now 1600 of 2000 employees are actively engaged with social features on theHUB.
Admin A Team: Page Group…
For their colossal work in rolling out a truly global platform! Growth Engineering's, Richard Cuplin presented their award and said: "This awesome Admin Team, not only had the challenge of setting up and launching their LMS, but had to manage a team of over 30 country Admins! Finding the balance in keeping control and consistency, but still giving each country the ability to localise the platform and put their personality onto it was a truly a magnificent achievement."
Admin of the Year: Maxpert's Thomas Noeller…
Thomas has transformed Maxpert from a classroom course provider into a company offering some of the world's coolest eLearning! Thomas and his brilliant team made their vision a reality! Now their customers can access video content, on top of Maxpert's usual top-quality classroom training.
Amazing Engagement: Tusker…
For their super creative innovations, like the virtual advent calendar, that build anticipation on their platform and keep learners coming back to Tuskerville! Tusker's Lauren said: "As it's just the two of us who manage Tuskerville, it's easy for people to not understand how much hard work goes into it, but meeting others at the GETOGETHER who are in the same boat was reassuring. We have come away with more great ideas to make Tuskerville even more amazing. Well done to Growth Engineering for organising a great event!"
---
I end as I began – with a humongous 'THANK YOU' to our customers. We provide the tools but it is you who put them to use, tailor them to your learners' needs and make your ideas a reality every day!
It was fantastic to see all the awesome innovations and learning success stories shared at GETOGETHER 2017. I can't wait to see how far we've all come by next year's GETOGETHER. See you all there!
Sign up to our blog below to stay up to date on all the juicy details from Growth Engineering and our fantastic customers.