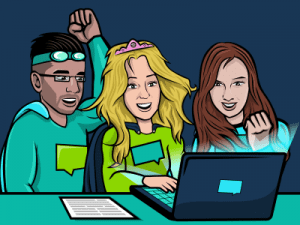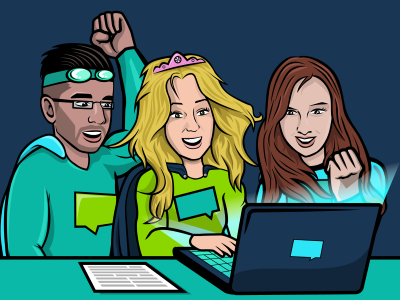 When did you last have fun learning something new? Maybe it was when you learned to drive, watched an inspiring Ted Talk or achieved a high score on Candy Crush.
It probably wasn't doing online training! Most learning management systems (LMS) are glorified eLearning repositories. Instead of being a joyful place where you can develop knowledge and skills, these platforms feel cold and lifeless.
Yet, it doesn't have to be this way! You can use the power of gamification to turn dull training into fun and engaging online learning that creates lasting behaviour change.
---
What is Gamification?
Gamification is the application of gaming mechanics to traditionally non-gaming environments, such as training. It takes everything people love about games and builds it into online training. Game mechanics such as rewards, experience points and levels, create a more engaging experience than clicking through endless boring slides.
How A Gamified LMS Engages Learners
Here at Growth Engineering, we believe learning should be fun. Yes, there will be challenges along the way but overcoming obstacles is what makes developing skills so rewarding. After all, the most successful computer games offer players regular challenges, that seem almost impossible…almost. Their success is down to achieving that delicate balance between challenge, difficulty, possibility and reward. And, of course, the coveted bragging rights players gain when they do finally win!
We have created a fully gamified learning platform, called the Academy LMS that reignites learners' desire for self-development and motivates their hunt for knowledge. Gamification is at the heart of our Academy LMS. Here's how it works:

Levels act as both goals and rewards to motivate learners on the Academy LMS. Admins can group training content together into Levels. The Levels create learning pathways that direct learners towards training tailored to their needs and abilities. A handy percentage bar indicates how far it is until the next Level – fueling their progression through the content. Learners unlock new Levels as they achieve training objectives set by the Admin. So, it's up to you, as Admin, to ask: 'What do learners need to achieve to level up?' Whatever it is, make it meaningful and appropriate to their ability level.
---

Reward your learners for all their hard work, progress and growing brainpower with experience points (XP). Admins can tie experience points to pretty much everything learners do on the Academy LMS, from updating their profile or sharing content to bigger stuff like completing training. Always weight the experience points appropriately, so that the reward fits the achievement! For example, you may give 10 points for commenting on the Academy LMS message board but 300 points for leveling up. This way, experience points stay meaningful and are a good indicator of how engaged each learner is with the LMS and training.
---

Badges are another brilliant way to reward learners' efforts on the Academy LMS. They are commonly awarded for accomplishments such as completion of single modules. However, Admins can choose which objectives to award Badges for. The personalisation doesn't stop there! You can design the Badges yourself to ensure they are specific and meaningful to your learners. You choose the name, look and triggers for each badge. So you can fully tailor these rewards to suit your company's brand, goals and training content. Rather than generic rewards, these personalised badges will immediately resonate with your learners' experiences.
---

Learners can earn these rewards for specific interactions with the Academy LMS. Achievements are given for simply navigating the platform, by logging in, for example, or downloading 30 pieces of content. Again, as the Admin, you can personalise these rewards. You can customise the message that your learners see when they unlock an Achievement, as well as designing the badge itself. You also have the ability to turn Achievement triggers on or off.
---

Your learners may crave real-life evidence for their online learning achievements. This is possible with Awards – a very special kind of badge on the Academy LMS! Awards are achieved by learners for completing an entire curriculum. They are the only type of badge that can be accompanied by certificates. As with pretty much everything on the platform, Admins can fully personalise these certificates within the Academy LMS to reflect the achievement. It's simple – Choose which font and design to use and then add text, images and logos of your choice. Voila! you have a certificate your learners would be proud to frame on their wall!
---

If you thought all those badges sounded awesome, wait until you hear about Praise Badges! Praise Badges take personalisation to a whole new level. The rewards we've discussed so far are achieved by all learners for hitting certain milestones. Praise Badges are a little more special. Only managers can dish out these treats, so learners know they have done something important if a Praise Badge comes their way! They let you reward employees with extra appreciation and on-the-spot recognition, through the Academy LMS.
---

The Badge Cabinet is the perfect place for learners to store and display their bounty of rewards! As learners progress through training and receive recognition for their hard work the rewards show up in their LMS profile. Each type of badge, from Achievements to Awards, has a special area within their profile so it's clear to all what they've achieved. This way, the profile section becomes a brilliant place for staff to celebrate their skills, communicate their career goals and display their triumphs for all to see. You can personalise the trophy area so its name fits with your company brand and training narrative.
---

What could be more rewarding than points, certificates and badges? Glad you asked! For many learners, it's a little healthy competition. The Academy LMS leaderboard provides exactly this by engaging learners' competitive spirit! All those rewards translate into each learner's overall score and position on the platform's company leaderboard. You can filter the leaderboard by team or department, letting you see who's blazing a trail through the training. This healthy competition builds a community of learners on the LMS who are interested in their own development and the achievements of their peers. It also lets you see who's engaging with the content (maybe this calls for a Praise Badge …hint, hint!).
---
As you can see, the gamified Academy LMS provides a myriad of ways to create a training rewards package that works for your organisation. You can pick and choose which customisable features to engage your learners.
Here, at Growth Engineering, we have embraced gamification because we've seen first hand how it transforms learning and creates lasting behaviour change! By introducing these gaming mechanics to your LMS you can transform your learners' experience and make them the hero of their own development journey!
Eager to unlock the next level of knowledge on gamification? Click the button below to download our Gamification White Paper to learn more about gamified learning on the Academy LMS.
[hs_action id="10535″]