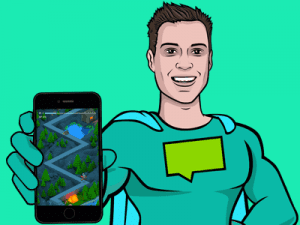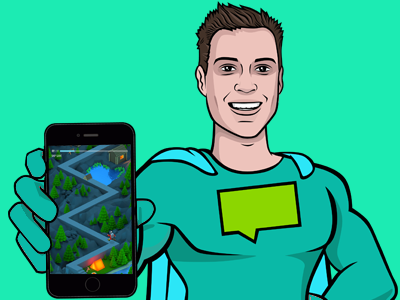 Game templates are a powerful way to engage your learners. Below we explore how you can use them to create engaging game-based learning.
Nowadays, most of us spend much of our free time swiping, tilting or furiously tapping at superhuman speeds! Our lightning finger reflexes are all thanks to mobile games. You only need to glance at your fellow commuters' phones to see the popularity of games today – There are 20 million active mobile gamers in the UK alone! It's clear gaming is engaging.
What if we told you that there's a way to make your online learning as fun and engaging as Angry Birds, Clash of Clans and Fruit Ninja? Well, now you can use game templates to create engaging game-based learning that transforms your training from a bore-a-thon into a finger-tapping learning adventure.
What are Game Templates?
Games can be used to enhance a learning experience by bringing the content to life. When training is delivered within the context of a game it's called game-based learning. Games improve the learning experience in many ways, from making training more fun and meaningful to motivating learners' progress throughout their learning journey. So, how do you create simple, yet powerful game-based learning?
This is where game templates come in! Game-templates act as a template, or skin, that you can apply to your online training. These templates can be matched onto your pre-existing elearning units to deliver the training content within the context of a thrilling game. As learners progress through the game they unlock training slides along the way. The more they swipe, tap and click to win the more they learn!
How to Use Game Templates to Engage Learners
Below we explore the benefits of game templates and how you can use these powerful tools to engage learners.
1. Familiar Fun
Most people love gaming but some love it more that others! 30% of gamers are aged between 18-35. It's clear games are no passing fad, as this generation are hooked on gaming well into adulthood! This matters because millennials will make up 75% of the workforce by 2025 and it's your job to engage them. Game templates let you deliver online training to millennials in a format they are already familiar with and love.
2. Visual Impact
When something looks tempting, exciting or just plain intriguing most of us want to get stuck straight in. Your learners are no different. Game templates give your online training that visual 'wow' factor that grabs their attention and builds their curiosity. They'll want to know what this learning game is all about and how they can win! Give your learners a glimpse of those stunning game graphics and they'll be itching to learn more.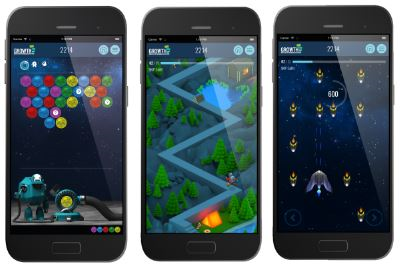 3. Fun Training
Research shows that when people feel happy they are more productive. Game templates help boost your learners' happy vibes by transforming dull online training into an engaging learning adventure. This is important because when we enjoy something we want more of it. So long as your learners are having fun they will keep coming back to learn more. Use game templates to create fun learning experiences that boost your learners' happiness and drive their progression through the content.
4. Motivates Progress
Games are addictive because the goal is clear – to win. This is a powerful motivator. After all, you wouldn't stop playing halfway through battling the big boss. You wouldn't quit Angry Birds mid aim. Likewise, your learners are unlikely to quit if all they need to do is unlock one more content item to reach the top of the virtual mountain. By building your content around a game, you motivate learners to start and finish their training.
5. Compelling Challenges
The balance between fun and challenge is what makes games like Angry Birds a hit with gamers everywhere; However difficult overcoming those dozy pigs is, it's always possible…just. Give your learners the same exciting sense of adventure and possibility by using game templates. Placing learning content within the framework of an engaging game makes the content feel more like a challenge they want to overcome than a necessary evil on their to-do list.
6. Narrative Driven
Gamers cite 'strong storylines' as the most important feature in computer games. Likewise, a strong training narrative is the key to engaging your learners with their online learning. This is where game templates really come into their own! You can use game templates to build your training around a strong storyline that grabs your learners' attention and holds their interest.
Let your imagination loose! Invite your learners to defend the company from an alien spaceship, ask them to climb a mountain (seeking valuable information along the way) or challenge them to a classic game of 'Whack-A-Mole'. Sometimes the simple games are the best!
7. Meaningful
We know great games are built around a strong story, but what makes a great storyline? Memorable characters? Imaginative plots? These things matter, but most important of all is Epic Meaning. Whatever form your game takes, make sure it's meaningful to your learners. Everything about the game can be used to remind them about the training themes, learning goals and company mission. This way the game narrative reinforces the learners' and company's purpose.
8. Pre-made vs Customised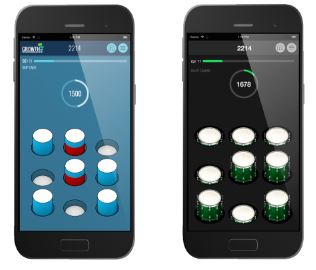 Game templates should never be chosen willy nilly. Picking a game template with Epic Meaning will help the training speak to your learners on a personal level. So, it's decision time! You have two choices: An awesome pre-made game template or a customised version. Let's consider an example.
Imagine you're training the next best rock band the world has ever seen! They need an exciting game to match their big ambitions. You could invite the wannabe rockstars to make sweet music with a classic game template. Hit the blue 'drums', whilst avoiding the off-key red ones. When they hit enough red drums in a row they unlock content and increase their score!
Want to make those drums look even more rockin'?  Your wish is our command. Let's customise the classic 'Whack-a-Mole' template to create a head-banging learning game with extra Epic Meaning! Check out the before and after images above to see the results.
10. Save Money and Time
The good news is, creating all of the above – the game design, the amazing visuals and the bucket loads of engaging fun – doesn't have to cost the earth. Game templates offer a simple and cost-effective way to inject fun into your typical online learning. Many content authoring tools, like Growth Engineering's Genie, offer pre-made game templates. This means you can simply select which game template best suits your goals, load it up and boom! You've created a training masterpiece to engage your learners! No expensive designers or calls to Hollywood necessary.
---
If you're looking for an exciting and flexible alternative to humdrum, click-through slideshows, game templates are just the answer. They offer a simple and efficient, yet powerful way to engage your learners.
Of course, the best way to understand game templates in all their glory is to experience them for yourself. Growth Engineering's award-winning content authoring tool, Genie, is packed full of awesome game templates. Just click the button below to try a demo.