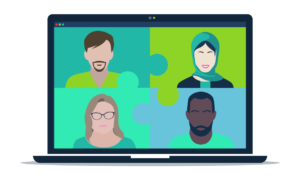 At first glance, you might not be able to spot the differences between working in a group and working as a group. They are both pretty similar. Surely any kind of 'group' work will be beneficial to learning, right?
Well, yes and no. There is strong scientific support for the benefits of having learners working and learning together in groups. However, generally speaking, it is through working together as a group that the best learning outcomes are achieved (Chiriac, 2014).
Working in a group
If you're a learner working in a group – and this doesn't necessarily apply only to classroom-based learning; group work is possible in blended and fully online learning too – then it's likely you're sitting together with fellow group members, but working individually on separate parts of an assignment.
Say, your group might be working on developing a new sales plan for the coming year. While Sally is researching the Asian market, Daniel is looking into re-writing the proposals and you're going back through lost accounts to assess what could have gone better.
Essentially, you're working on your own jobs, but will come together at the end to put your separate contributions together into a joint project.
Even cooperation isn't really necessary. It's possible to get through the whole project without exchanging more than a sentence or two!
Working as a group
When you work as a group, on the other hand, you'll see far more benefits when it comes to expanding your knowledge and learning the subject matter.
Working as a group is also referred to as 'real group work' and 'meaningful group work', and denotes a kind of group working whereby learners utilise each other's skills and work together to achieve a common goal.
In other words, when you work as a group all members will be involved in and working on a common task to produce a joint outcome. In the example above, this would mean each member of the group would look at lost opportunities over the past year and collaborate on a plan of action for the coming year.
Research (Hansen, 2006) has found that learners value working as a group far more highly than working in a group. Learners find it important that all members take part and make an effort, that clear goals are set for work, that role differentiation exists among members, and that there is clear leadership.
What are the Benefits of Working As a Group?
1. You get to Brainstorm
Working as a group allows the you to bounce ideas off of each other. More often than not, creative differences will inspire originality, helping to produce ideas that are much greater than any individual could muster alone.
You'll be able to bring your knowledge to the table as well as taking inspiration from others. You only have to look at Lennon and McCartney to see how collaborations can achieve greatness!
2. Builds on Strengths
Every team has individuals who are skilled in certain areas and who exhibit certain personality traits. Working as a group means that you get a blend of forces working for the greater good! For example, someone might be skilled in spreadsheets and organisation, whereas another person might be more skilled at writing and grammar.
3. Builds Trust
The great thing about working on a project together is that you all have to rely on each other. Co-workers who may have only ever exchanged niceties by the water-cooler will now be thrust into a situation where they have to depend on one another. The more this reliance proves to work, the more trust you'll build.
In fact, people who work together in tight-knit communities in the workplace have found that they are:
106% more energetic at work.
76% more engaged with their jobs
Experience 74% less stress
Take 13% less sick days
How Can Working as a Group be Achieved in Online-Learning?
A good learning management system will have great social collaboration areas which will enable and encourage learners to work on projects together, share ideas and help each other flourish.
It's even simpler to get learners working as a group when your solution is blended, with sporadic classroom or workshop events to complement what learners have been learning in their eLearning courses.
With blended learning, learners will go through eLearning units in their own time, spend time chatting and discussing the topics on their LMS, then come to a workshop armed with knowledge. Once there, they'll be set a group task – one which involves all group members working directly together!
Our social learning features include:
1. Live Chat
With Live Chat, you can simply send requests and ask questions with your teammate and get responses within minutes. Live Chat is great for individuals working on-the-go, or to better communicate with that co-worker who always wears headphones!
2. Social Stream
A lot of us have grown up with social media playing a big part of our lives. This is why having a social stream is such a great feature to incorporate on an LMS or a learning app. The point being, most of us have become accustomed to this way of communicating.
A live social feed lets a group chat in real-time, where they can post videos, gifs, pictures and much more to demonstrate their points.
3. Group Chat
The main benefit of having a Group Chat is that it focuses on a certain topic. Streamlining the conversation will lead to things getting done a lot quicker. There's no distractions from cat videos here! (Okay, maybe a few!)
Final Words
Learning and working in this way is a form of social, or informal, learning. It's an important aspect of any training programme, since 20% of our knowledge is gained through observation of and working with others.
Find out more about social learning and how to encourage it in your own training plan by downloading our 70:20:10 tip sheet.