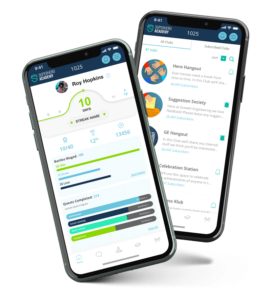 What are the main advantages of a mobile learning app? Well, let us tell you!
Mobile learning apps have wowed our lives for over a decade! From languages and science to mindfulness and meditation; there's an educational app for everyone.
Before the reign of the mobile learning app, we learned in libraries or on desktop computers, and companies would distribute their training through classroom sessions, textbooks and legacy LMSs.
As technology has improved, we've left the legacy systems behind us and adopted NextGen training platforms and mobile learning apps. As a result, mobile learning apps have charmed us all with their slick user experience.
Here are five other advantages you'll get from a mobile learning app. All hail the app!
Top Five Advantages to a Mobile Learning App
1. They're Portable!
Learning on-the-go is a relatively new phenomenon. Technology has adapted to meet our busy lifestyles.
You can now learn while travelling on public transport. Or you can learn at the gym, on your lunch break,  in the park. You can even learn while skydiving (though you may be slightly distracted)! Learning is now at your convenience thanks to the power of the smartphone.
This enables your learners to slip training into their busy schedules. This just isn't possible to do with a clunky desktop computer. With learners empowered to complete training whenever, wherever, you can be sure this will reflect in your training ROI.
2. They're Specifically Designed for Mobiles
As of March 2018, Apple estimate there are 200,000 educational apps on the App Store. These apps can be installed within seconds. They're incredibly easy to navigate because they're designed specifically for mobile phones.
This is why people spend more time on apps than they do browsing the internet. If you're sending your learners straight to a website, then it won't be as easy to use on mobile as an app. The worst-case scenario might include:
Difficult navigation
Unnecessary scrolling
Not to scale
3. Push and Pull Content
Push:
On our Academy LMS, there is the option to push and pull content.
Pushing and pulling content is a cherished marketing strategy. You may think of it as companies literally pushing leaflets through your door. In the world of modern L&D, it means pushing certain content to the forefront.
Let's say a physics teacher creates a test covering a broad range of areas. One pupil fails questions regarding atoms. Well, they can then offer the pupil extra support regarding the matter (matter… see what we did there?!).
The same tactic can be used on our Knowledge Arcade.
Through the 'My Things to Do' section on a user's dashboard, you can push the perfect content to meet an individual's needs. Simply invite them to take it, and it will show up in the box.
Pull:
Pulling content is all about drawing learners into your learning environment, without forcing them in! We allow learners to rate every piece of content on our app. This helps convince new learners what content is better suited to them. Additionally, we have our Performance Centre.
Managers can analyse their employees learning footprints to form a personal development plan. Tailored learning at its best!
4. Bite-size Content
Your learners don't want long and boring content! They want it in short bursts! Bite-sized learning (or microlearning) is the perfect partner for a mobile learning app.
Many organisations have used their LMS to deliver hours-long training. Ouch! This just doesn't work on mobile.
Luckily, microlearning has many awesome benefits, including:
Engagement
As we all know, the human brain can be extremely difficult. It can only concentrate for around 20 minutes before it has a meltdown and begs for an interval. Therefore, bitesize content is imperative for learning. Create content that lasts 20 minutes max and your learners will be 50% more engaged.
Money Saving
Microcontent is naturally condensed compared to traditional eLearning. It can be produced 300% quicker. This gives content creators more time to create fab content. This proves the theory all along; time is money…
Knowledge Retention
Hermann Ebbinghaus's famous Forgetting Curve observes that over time, we forget what we're taught. But, if you reinforce what you've learned, then it's more likely to stick. Microlearning is the perfect tool.
5. Mobile Impulses
According to a study by Discount, the average mobile phone user touches their mobile 2, 617 times a day. That is just the average. Those in the top 10% touch their phone a staggering 5,400 times each day! Enabling learning via our smartphones is, therefore, a smart move!
It means that your training will tap into the pulling power of a mobile phone. From the moment learners hit download, your training is at their fingertips waiting to be completed. You won't have to fight to get learners onto your platform, they'll already be there!
Final Words
Today, the smartphone reigns supreme. We expect our learning to be portable and designed for mobile use. With push and pull notifications, we can count on content being tailored to our requirements.
We also consume our content in micro-segments, ensuring it's a much more engaging experience. On top of all this, you can deliver training via a tool all of us are attached to – our smartphones!
Want to learn even more about the wonders of mobile learning apps? Why not download our paper Game of Phones? It well help you better understand the difference between a mobile learning app and a responsive LMS.