Growth Engineering's Authoring Tool
Game Demo's
Does your online learning solution suffer from a lack of engagement? Then you need a game-plan. Learning games appeal to our natural desire for competition, collaboration and mastery. 
Whether you're using learning games as a reward for hard work, or to help drive focus, one thing's clear: they should be a part of your training arsenal.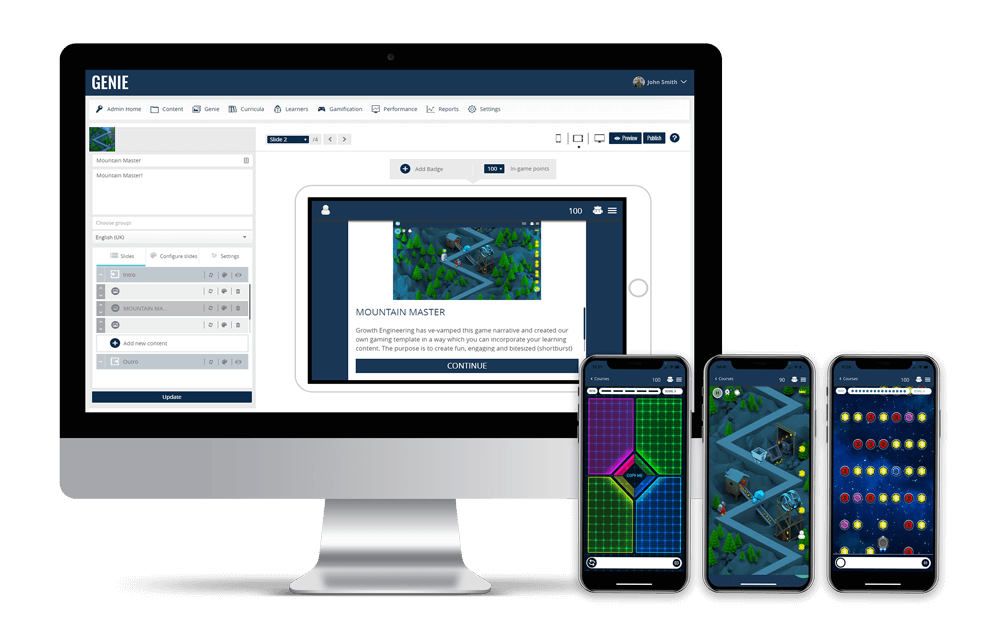 Mental Blocks
Move the player left and right to collect as many positive blocks as possible before your time runs out. Be careful to avoid the negative ones though - there will be consequences!
Bubble Blaster
This simple colour-matching game is a mobile gaming favourite and now you can use it to support your training programme. You can even match the colours to your own brand.
Pirate Blocks
Sail the ship left and right to collect as many coins as possible before your time runs out. Be careful to avoid the obstacles though - there will be consequences!
Whack Em All
Speedy reactions and good hand-eye coordination are needed for this spin on a classic fairground attraction. Learners can pause to catch their breath with unlockable learning assets as they progress.
Circus Recall
Unleash all the fun of the fair with this new variant of 'Total Recall'. It's a carnival of delights. Watch and listen to the sequence the central lights present and then try to repeat it back using the pads provided. With a new note added each time, the sequence will get progessively longer as you advance through the levels. Get as far as you can before the time runs out.
Space Blocks
This space-themed variant of Mental Blocks is astronomically fun. With Space Blocks, learners will need to guide their rocket through the cosmic abyss, collecting score-boosters and avoiding space debris as they go. Colliding with this detritus can impact your score and inflict any number of impediments on your best made efforts. To master this game, you'll need focus, dexterity and a small slice of luck. Succeed, however, and you'll feel over the moon!
Chill Art
Chill Art is a brand new game template that uses your learners' creative energy to develop their attention spans. It's designed to put your learners into a state of deep focus, so they're ready to enthusiastically consume any learning content that gets put in their path.
WE CAN CUSTOMISE
YOUR TEMPLATE TOO
Create your own custom game-based learning by personalising our learning game templates. Layer on your brand imagery, colours and logo so that your learning game sits right at home amongst your organization's brand.

Are you ready to hit the engagement motherlode and build training that drives meaningful results for your business?