Our trophy cabinet!
We can't even close the door!
We don't do what we do for the recognition and awards, but we're still so proud of our achievements that we want to share everything with you! We love to see our clients earning recognition for their hard work (especially when we've helped to make it happen!). On this page, you'll find the details about all the amazing awards we've been getting (we just can't stop!) and the recognition we're receiving, none of which would have been possible if not for our amazing clients!
We're #1 in the world!
#1 Gamified LMS, #1 Retail LMS, #1 NextGen LMS
eLearning 24/7 is one of the leading sources of information on the Learning Technologies industry. In his blog, CEO Craig Weiss regularly gives a run-down of the best Learning Management Systems on the market and we're proud to report that he thinks we're AWESOME!
2016 Training Industry Lists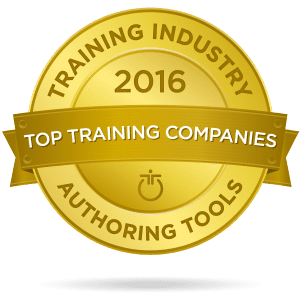 Top 20 Authoring Tools Companies
Based on:
Leadership and innovation
Features and capabilities of the Authoring Tools
Company size and growth potential
Company focus on the authoring platforms
Strength and number of clients/users
Geographic reach
2015 Brandon Hall Excellence Awards
2015 Training Industry Lists
Top 20 Gamification Companies
Based on:
Features and capabilities of the gamification products/services
Company size and growth potential
Quality and number of clients/users
Geographic reach
Awards, recognition, and competitive differentiation
Top Learning Portals Companies Watch List
Based on:
New and innovative service offerings
Unique approach to delivering learning solutions
Commitment to improving learning through technology
Quality of initial clients
2015 Training Journal Awards
Shortlisted
2015 AITD National Training Excellence Awards
Shortlisted
2015 UK Customer Experience Awards
Shortlisted
2014 Brandon Hall Excellence Awards
2014 Training Industry Lists
Learning Portal Company Watch List
Based on:
New and innovative service offerings
Unique approach to delivering learning solutions
Commitment to improving learning through technology
Quality of initial clients
Gamification Company Watch List
Based on:
Features and capabilities of the gamification products/services
Company size and growth potential
Quality and number of clients/users
Geographic reach
Awards, recognition, and competitive differentiation
2013 Brandon Hall Excellence Awards
E-learning designer
of the year
(Sridhar Subramaniam)
E-learning designer
of the year
(Sam Wise)