[hs_action id="13503″]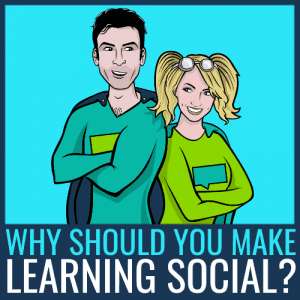 We've explained before that only 10% of our knowledge comes from formal training – the rest occurs through informal learning, like observing others, sharing ideas and
learning on the job
. You can read more about the different kinds of learning
here
, by the way.
Everyone is a learner at heart, and that's even more true here at Growth Engineering than elsewhere, since we seriously recognise the importance of a continual learning journey.
The point is that sometimes we get so overwhelmed and excited about our own learning journey that we forget some of you may be getting on the informal learning gravy train later than others.
So if you don't fancy wading through our other blog posts to find out what we're talking about when we say, "Oh my gosh, social learning is the bomb!" then keep reading for THREE quick reasons why you need to open your hearts to social learning!
[us_separator type="default" icon="fas|star"]
Social Learning is flexible
Informal/social learning gives us the option of learning whenever, wherever, for however long we want, on whatever topic takes our fancy. Imagine you've done a formal training programme on telesales, and you want to take that learning a bit further.
To make the learning social, one great idea is to sign up to a forum with other learners who have also learnt about telesales – you can bounce ideas off each other, share information and useful websites, update others on your progress and discover topics that might be of interest that you otherwise would never have stumbled upon, had you stuck rigidly to your formal training!
You can find out how we do it on our Gamified Social LMS here.
Social Learning is enjoyable
When we're able to pick our learning route, we enjoy the journey that much more. Sure, sometimes we'll have to learn about things that are inherently boring – 'Top Tips to Watch Paint Dry' – but once we've learnt the basics, we can move our learning on into areas that interest us more.
Read more: 5 bonus superpowers of social learning.
Social Learning is more effective
When we're having fun and enjoying ourselves, we'll learn more – it's proven that our brains are 68% more active when we're happy, having fun and enjoying the learning process, and with this amount of brain activity we're capable of absorbing 84% more information. It really pays to have fun and enjoy our learning!
Read more: Who says learning can't be fun?!
We hope you will come to love informal learning as much as we do! If you're looking for ways to remove learning's leash and send it off on an exciting adventure all on its own, we've got just the thing!
Our Informal Learning Tip Sheet is full of tasty morsels of insight and it's all yours with just the click of a button!