What is Company Culture?
Company culture, some have it, some don't. Just the way it is – right?
Wrong! 
What is it about some companies? They just seem to exude awesomeness, screaming to people, "I'm a great place to work!" Is it the free coffee? Is it the pay and perks? Maybe the lax attitude to start times?
Whatever it is, some organisations just seem to have it. We think – brace yourselves – that we've discovered what 'it' is. That's right. The elusive thing. Here we go. Are you ready?
Engagement. Employee engagement, to be specific – and we don't mean the number of employees that are engaged or happily married. No, we're talking about how enthused and motivated workers are and how this impacts upon not only their work ethic, their productivity and longevity, but how it rubs off on their colleagues, too.
These 'great' companies, such as Google, Twitter and Facebook, are renowned for having an awesome company culture. We've written about company culture before, and why it's important to have a fun, empowered company culture. But it's not just about having fun at work and rewarding employees with money, days off and gift certificates.
How To Have a Great Company Culture
To really get employees engaged, senior management have got to highlight the importance of each and every individual in the organisation. A letter-opener may not feel that important, but what would the CEO do if they didn't have their post on their desk when they walked through the door every morning? A marketing intern may not think they come very high up in the food chain, but how many leads are they generating, and how vital are leads to the success of the business?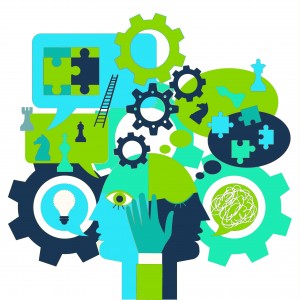 Once employees know and recognise that they all have a role to play in the company's mission, the more engaged they'll be. And once this happens, the company will exude this 'thing' that makes them so desirable.
Your employees aren't simply cogs in a machine. Well, they are, technically, if we think of the company as a unit and the employees as parts – but the thing to emphasise is that all cogs are important, from the part-timer who comes in to sort everyone out after a whirlwind few days and the MD's right-hand who fields calls and organises meetings, to the technology wizards who create the product to sell and the finance team who keeps the business afloat.
Although, of course, while a great company culture doesn't necessarily stem from the perks, the free food, the beer and the nights out… They don't exactly hurt!
Want more ways you can empower your staff and build an effective company culture? Then the jet fuel you're looking for is Epic Meaning. And you'd be right. It's as epic as it sounds! Want to find out more? Then click right here to grab your copy!