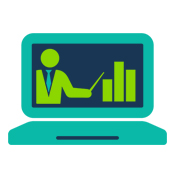 A Learning Management System – aka LMS – is an awesome piece of software that organisations can use to deliver training and eLearning modules to staff and then report on employees' progress. Here are THREE things that an LMS – and particularly an LMS with gamification features and gamified learning content – can deliver to your organisation: incredible rates of engagement, super reporting and epic ROI.
Unparalleled engagement
Utilising gamification on your company's LMS and in the eLearning will really capture your employees' attention and get them hooked on improving their knowledge, aligning to the company culture and generally becoming even better at their jobs. This is good for the individual, good for their team, good for the department and good for the company.
Discover the benefits of getting staff engaged here: The Secret to Engagement!
All good Learning Management Systems will have a dedicated Admin area where managers can run reports on how their learner-employees are doing. You can see at the push of a button exactly how well they are performing, whether they aced the last assessment you put together or whether they need to put in a little more studying to pass.
Pssst! Did you know that you can even set up eLearning content and extra reading to be pushed out to learners automatically if they fail an assessment? Click here to find out more: Building an automated development plan.
Amazing return on investment
Put these things together – gamification, engagement and reporting functionality – and you will be hitting targets and scoring a fantastic ROI before you know it! Being able to monitor how well the behaviour changes are being implemented in your organisation – and, of course, it being so simple to demonstrate this through facts and figures easily accessed via the LMS's reports – will give you and your bosses a really good idea of how much the LMS is paying off, in terms of resources, time, support and finances.
Check out the white paper below on how you can use eLearning to boost your ROI: