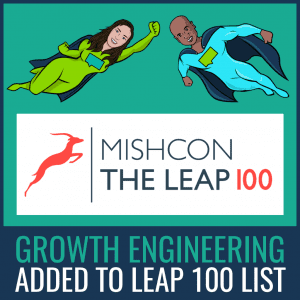 The financial year may be coming to a close, but our latest big news guarantees that we've got an exciting 12 months ahead of us!
We've just been added to this year's Leap 100 list. To be honest, we're used to flying over things, but leaping is fine too. But what exactly is this list?
The Leap 100 lists 100 of the most exciting, fastest-growing companies in the UK, all of whom are considered 'ones to watch' for 2016. Every firm chosen has a recent history of rapid revenue growth, and has the ambition to double in size over the next three years.
The list is compiled based on research by a number of organisations. These include City A.M., the business newspaper with a daily readership of 400,000, and Mishcon de Reya, a law firm with more than 400 lawyers and offices in London and New York.
But we're not just being plonked on a list! Over the next 12 months, we and our 99 peers will have our journeys documented through regular polls, round tables and events.
All of these events will get coverage in City A.M.'s newspaper and on their website, so expect to see a lot more of us over the next year!
Our Managing Director Juliette Denny is pretty thrilled: "It's absolutely awesome to be listed among so many exciting companies! We've worked extremely hard to get where we are, and we've got nothing but massive plans for the future."
Christian May, the editor of City A.M., also had nice things to say: "For the majority of companies, the key problem continues to focus on how companies scale in order to grow to their full potential. The purpose of this list is to showcase the UK companies succeeding in doing this, as well as identifying those that we as a nation need to be aware of – they are a triumph."
Find the full Leap 100 list here.
If you're looking to find out why we keep on growing and growing, then you should take a look at what we do! Click the banner below to take a free tour of our gamified, social Academy LMS: