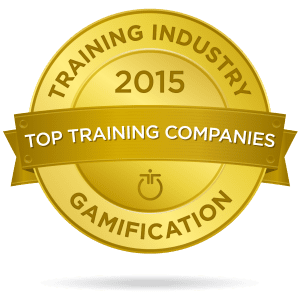 Yes, you read that right! We've been recognised by Training Industry in their Top 20 Gamification Companies List, making us a certified world-leader!
We could not be happier about this announcement! After all, gamification is something of a specialist subject for us.
And the Top 20 aren't ranked in any particular order, so for all we know, we could actually be number one (we like to think we are!).
Of course, the reason we've made the list is our focus on building gamification features into our engaging learning products, namely our gamified, social Academy LMS and Genie, our game-based content authoring tool.
Here's what the judges were looking for:
Features and capabilities of the gamification products/services
Company size and growth potential
Quality and number of clients/users
Geographic reach
Awards, recognition and competitive differentiation
After dedicating more than a decade to transforming the world of online learning, our Managing Director, Juliette Denny, was almost brought to tears of joy when she heard we'd made the list!
We calmed her down enough to grab a few words: "Making this list is a dream come true! More and more organisations are turning to gamification to engage their workforce with their learning and development, so being recognised as an industry leader is a huge testament to our hard work and expertise in this field!"
[us_separator type="default" icon="fas|star"]
We love sharing our gamification expertise, which is why we've put together two white papers, both absolutely free to download!
First up is 'Fun in Learning' which explains what gamification is and how you can apply it to your learning. Second is 'The Business Case for Gamification' which delves deeper into the incredible ROI gamified learning can deliver to an organisation.
And if you'd like to find out first-hand why we're a world-leader when it comes to gamification, why not take a free tour of our Academy LMS to see what makes us stand out?
[hs_action id="7083″]