This week's Learning Hero is Joey J. Lee!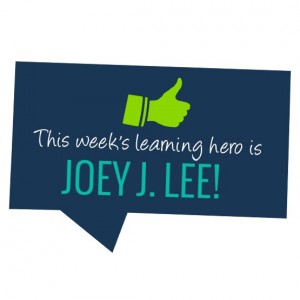 We're pleased to say that this week's Learning Hero is Joey J. Lee, PhD, Research Professor of Technology and Education at Teachers College, Columbia University.
It was a happy surprise to stumble across Joey's work while we were searching for further information on gamification in education – though as soon as we began to read more about him, we were amazed we'd not heard his name sooner!
In his own words, Joey designs, develops and studies 'interactive games and technology for learning'. His current projects address real-world problems like sustainability, social change, cross-cultural education, motivation and engagement in classrooms. Joey also directs the Real-World Impact Games Lab at the university, where he develops games, researches motivation and games, and writes papers.
In 2011, Joey and Jessica Hammer, Graduate Research Fellow, also at Teachers College, wrote an article entitled Gamification in Education: What, How, Why Bother?, which is how we came across him. In the article, Joey and Jessica tackle how gamification might be utilised to reduce the scarily high dropout rates at college across America: apparently, around 1.2 million students fail to graduate high school each year.
It's a shocking statistic and is something that really needs to be addressed: and gamification is the way to do it.
Like us at Growth Engineering, Joey J. Lee recognises the role of gamification in engaging learners. When the topic is dry or difficult, something extra is needed to captivate learners' attention and get them invested in the course.
In the article, Joey and Jessica explain that gamification helps to create new rules by which to learn, away from the rigid confines of school rules – formal rules that include sticking strictly to the syllabus (whereas a student's passion may lie elsewhere) and deterring any communication that isn't directly related to projects.
With gamification, if a student reads an optional library book which is related to the classroom topic, they can gain a badge or some points. This encourages them to continue reading around the topic, supplementing their education and expanding their knowledge further.
It really is a great article! Read it here at Academia.edu. To find out more about Joey J. Lee and his work, click the links below:
Joey's page at Columbia University.
Columbia University on Twitter: @columbia
That gamification is the answer to the problem of engagement is something we've believed from day one, which is why we built our Academy LMS from the ground-up to be full of gamification features like points, badges and leaderboards, and why we've placed such an emphasis on social learning and collaboration. We work better when we can bounce ideas off each other, after all. Want to find out more? Download our white paper on how gamification superchargers engagement by clicking the button below!
[hs_action id="4610″]