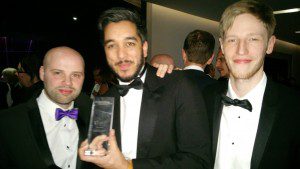 We do work with some real learning superheroes, don't we? Last night we donned our black ties and rolled up in a luxurious minibus to the glitzy e-Learning Awards gala dinner!
The awards are run by CloserStill, and were established in 2005 to recognise and celebrate eLearning excellence. It's one of the most celebrated, independently judged awards schemes within the sector.
We were treated to a champagne reception on arrival, followed by a magnificent three-course dinner. But the real excitement began with the announcements, and Phill Jupitus was on hand to deliver gags and gongs galore.
We were waiting eagerly for the 'Best Learning Management System Implementation' category, along with our wonderful client GAME, who we'd entered in partnership with. This category recognises the impact an LMS has had on an organisation.
And then, when the moment came, there was a dramatic pause before the victor was revealed… They'd only gone and given the gold to us! We went mad, and we're pretty sure we made the most noise of the whole event!
The reason for the win is GAME Learning Zone, an online learning platform built using our Academy LMS. That means it's not just packed with interactive content, but it's fully equipped with social and gamification features to keep learners engaged!
Though it only launched in April 2015, it's already impacting on GAME's sales figures. Their learners have also shown enormous levels of engagement with the platform and its social features. They're actually using the platform as a social network so that they can communicate and share with their colleagues nationwide!
We cornered our Managing Director, Juliette Denny, on the dance floor so that we could grab a few words: "I could not be happier with this result! The guys at GAME have been nothing short of a joy to work with. We're all on the same wavelength so we're building a really magical partnership, and it's just going to keep delivering results like this for years to come!"
Craig Mills, the superstar Learning Manager who runs GAME Learning Zone, was also pretty chuffed: "Training and developing people has always been a passion! From small changes to giant leaps, there is nothing more rewarding than feeling yourself develop and seeing other do the same. With the astounding LMS provided by Growth Engineering I was able to realise my gamified learning goals and provide an experience for our learners that is as rewarding as it is addictive. I'm excited to see what the future of GAME Learning Zone will look like through the partnership and shared passion of Growth Engineering and GAME."
If you're itching to find out more about GAME Learning Zone, download the free case study!
If you want to see first-hand why we win so many awards, why not book a free tour of our Academy LMS?