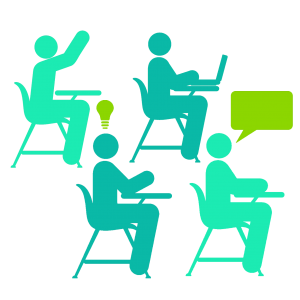 Are you wondering what we do when we're not creating engaging, award-winning online Learning Management Systems and sending learners on a learning journey to paradise?
Well, in our down time we go through a magical transformation from Learning Superheroes into stars – film stars, to be specific!
Between us, we write, act, film, edit and upload fun, entertaining videos that explain what it is we do here at Growth Engineering. And here's one of them! The video we've featured below highlights some key functionality of our award-winning Academy Learning Management System.
It explains how we've used gamification to send engagement levels soaring, how we encourage social learning with our awesome 'Insights' area and how our gamified Learning Management System can be used to book and manage real-world classroom training, too!
So, without further ado, why not check out our latest video all about the Academy Learning Management System – recently ranked the #1 Next Gen LMS in the world and the #1 Gamified LMS in the world!
As you can see, we're all about making learning fun and engaging for learners, but we don't stop there. We're also passionate about making it as easy as possible for Managers and Admins to monitor and report on learners' progress, set up eLearning modules, create tests and manage classroom booking with our 'Interactive Classroom' functionality.
There really is no other Learning Management System quite like the Gamified Social Academy LMS!
When learners log on to the Academy, they forget they're learning – instead, they just think about all the fun they're having, the points and badges they're gaining and how quickly their skills are skyrocketing!
We'd love to show you around the Academy Learning Management System so you can get an even better idea of exactly what sets us apart. It's not just about gamification and beautiful design – the user experience is divine, we're on the ball with informal learning and social learning, and the Academy is just so easy to use.
There are a couple of ways you can see our gamified Academy Learning Management System for yourself. You can either sign up to one of our weekly webinar tours with one of our expert guides (do this by clicking the big button below) or, if there isn't a time available that suits you, fill out this form to request contact at your convenience. Easy as pie! We can't wait to talk to you.
[hs_action id="5176″]