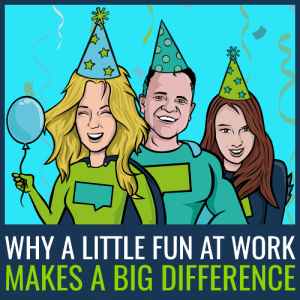 This week, join me on my quest to unleash superheroes, as I explore how to put the fun into work and why laughter is good for business!
It was #NationalSuperheroDay last week. At Growth Engineering we couldn't let an epic event like that pass us by at the speed of light… So we were literally unleashing our inner superheroes and celebrating in fully-caped glory! I was decked out as Poison Ivy, 'a deadly force to the world' – so watch out dull online learning – I'm coming for you!
Of course, at Growth Engineering we don't need an excuse to whip out our fanciest eye masks, pull on our spandex and practise our best superhero pose. We are always up for a little fun! After all, it's is good for business. Here's why.
Fun is Good For Business
Life without laughter would be grey and downright dull! As anyone who's seen me on my daily commute on my micro scooter knows – I'm a fan of adding a bit of fun to everyday life. Life's too short for boring!

Fun at work can take many forms. So, let's explore some of the ways a little fun can make a big difference.
Productive Power of Laughter
It's probably not a surprise that a fun working environment makes us happier at work. The good news? Happy employees are 12% more productive! The great news? it's not just happiness that increases positivity. Research shows, simply having a good laugh makes us more productive and boosts accuracy. So, next time you have an afternoon of hardcore spreadsheets, or back-to-back calls ahead of you, an impromptu #joke-off could be just the motivation you need!
More Fun, Less Empty Seats
No, I'm not talking about Musical Chairs Monday (but while we're at it, that sounds like a awesome idea!). I am talking about the fact that more fun in the workplace leads to lower staff turnover and less time off sick. In fact, research found 62% of people who engaged in fun activities at work had taken no sick days in the last three months (compared to 38% of people who had not taken part in fun at work).
Raising Resilience
Whether you're facing a business crisis, a bad day at the office or just a bad hair day – resilience is essential in times of adversity. That's where laughter can help because it's good for our health and wellbeing. A hearty chuckle can lower stress and boost immunity. In fact, our muscles relax for up to 45 minutes following a good giggle. Encouraging a positive office culture that advocates fun and laughter helps protect staff against the stresses and strains of day-to-day working life.
Creative Fun!
All work and no play makes Jack a dull boy. It's true – without a little fun in the office people become dull and uninspired – that means creativity suffers. In contrast, 55% of staff who've taken part in a fun activity in the last 6 months feel more creative. A workplace where people feel free to laugh, helps people feel free to share their ideas. It's clear a little fun can make all the difference when it comes to business innovation.
What Do You Do for Fun?
Fun means different things to different people. Some people's micro scooter may be another person's Harley Davidson. Some people's snowboarding dream-getaway might be another person's vertigo nightmare. So what does fun look like for your employees and learners?
Firstly most people like to have fun but some like it more than others. 79% of Millennials think fun at work is important, compared to only 55% of older staff. On top of that, fun looks different depending on your role within the company. For example, only 14% of business owners see dress-down days as fun compared to 29% of graduates. The research also shows business owners are less likely to value fun at work than employees.
So next time we're planning the company wellbeing strategy, staff conference or social – it's important to ask people what they want. Make the fun meaningful and inclusive. This way everyone's ideas of a good time are represented and celebrated. This fosters a working environment of inclusion, diversity, Epic Meaning and of course, shed loads of fun!
Need some inspiration? Pandas sure know how to how fun so take a tip from this guy!
Make Fun a Habit
We can't simply look around a grey office and think 'It's miserable in here – we need to spice things up – let's organise a team away day, party or dance off (insert random, one-off event of your choice here)." Those activities will probably boost morale temporarily but how long will this seratonin high last?
For fun to translate into happiness and success, it needs to become a habit. Make fun part of the company culture. And of course, make it part of the learning culture to keep your staff happy, engaged and motivated!
How can Learning Technology Help?
Too large, scattered or remote to make this happen throughout your company? Learning technologies can help bring all this fun to your staff wherever they are.
Gamification
What could be more fun that a good game? Gamification, the application of gaming mechanics to non-game environments, allows you to bring all the fun of the Zelda and Angry Birds, straight to your LMS. Points, levels and rewards will keep your learners engaged and motivated.
Social
Use the power of social to bump up the fun element. Introduce chatrooms to your LMS where people can celebrates success, share ideas and cheer each other on. Why not add a healthy dose of competition too with a leaderboard feature? It doesn't just have to be about learning – why not take an idea from us at Growth Engineering and encourage people to share their favourite weekend selfie – best one wins!
Mobile
Whether based at the company's head office or in a remote wilderness outposting – people can stay connected to the fun wherever they are with mobile learning. Mobile means no one has to miss out the leaderboard top spot, office #JokeOff marathon, or the latest company competition.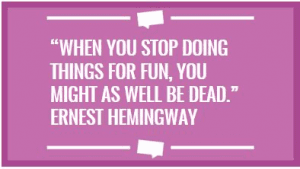 I think what fun really comes down to is passion. It's that energy that runs through everything we love that drives us to keep creating, innovating, doing – living! It is that powerful, playful, creative feeling that unleashes superheroes!
My upcoming book, Unleashing Superheroes, will be packed full of more information on how a little fun can create organisational change in your company.
P.S. Tweet me and share the last fun thing you did at work.
—————————————-
Join our mailing list to keep up to date on all the juicy details about Unleashing Superheroes.
[hs_action id="16865″]