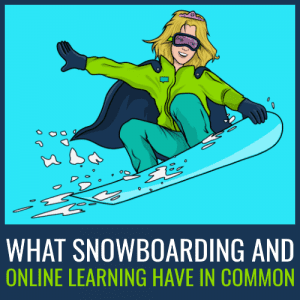 This week you'll find me surfing the the snowy peaks of the Alps, in my quest to unleash superheroes. Grab your snowboard and join me for the ride! 
As we all know, learning something new can be difficult. You're going to spend a lot of time falling over before you reach the top. I know this only too well, from my recent snowboarding trip in the Three Valleys. I have the sore bum and goggles-tan to prove it!
Yes, last week with kids in-tow, I hit the steep learning curves of the Alps. We've been going for four years and I still spend a lot of time falling over! So what keeps learners, like me, coming back for more?
Moments of Glory
It's those moments of glory that keep us getting back up and moving forward, however many times we fall. It's about the people cheering us on, falling over with us and laughing about it in the cosy apres-ski lounge.
When we're learning something new, even small victories can feel immense. Cue the impromptu victory dance! Take it from me, doing the Robot whilst head-to-toe in ski gear is a challenge in itself, but so worth it!
So, how can the lessons from the slopes be used to create successful online learning? Like with any journey to success, it's about keeping the rewards in sight, having fun along the way and an awesome bunch of people around to support you.
Online Learning Lessons from the Slopes
I may still have a long way to go until I master the perfect Ollie, Nollie or Wheelie. But one thing's for sure – when it happens there will be pictures! That's because achieving goals feels good…But you know what feels awesome? Doing all that stuff and having people around to celebrate with you!
Social Sprinkle
You can add a little of this social magic into your training, to engage and motivate learners to reach their goals. How? You could add chat room features where learners can share photos, #humblebrag about their achievements and celebrate each other's efforts. Discussion groups also create a place where people can share their expertise and help each other improve. Why not encourage healthy competition by including a leaderboard?
These are just a few ways you can create an LMS to rival the pull of the slopes and atmosphere of the Apres Ski lounge! Whatever you do, make sure learners are encouraged to share their successes, support each other and have fun along the way.
Keep the Glory Moments in Sight
Whether we're tightly gripping the ski-lift as we approach the next piste level, or starting a new online learning curriculum – the challenge ahead can seem daunting. That's why it's helpful to break the training down into smaller, achievable sections. You can also keep learners motivated to progress through the content, by including rewards such as badges at key points.
Use learning pathways to make the purpose and goals of the training clear from the get-go. This way learners know what to expect and are motivated to complete the course. With clear pathways directing your learners' route through the content and meaningful rewards, there's no risk they'll get lost among the snowy peaks of disengagement.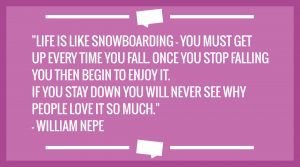 There's nothing like snowboarding to make you feel like everything from a novice to a superhero, all in one day. Even if we have to 'fake it 'til we make it,' so long as we keep getting back up, we will achieve our moments of glory! You can give your learners that same feeling of empowerment and unleash their inner superheroes! My upcoming book, Unleashing Superheroes, will give you the tools to do just that and create lasting organisational change. 
——————————————–
Join our mailing list to keep up to date on all the juicy details about Unleashing Superheroes.
[hs_action id="16865″]