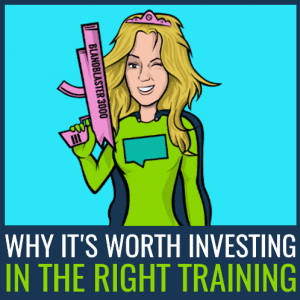 This week, I delve into why investing in the right training is the key to Unleashing Superheroes in your organisation. Discover how to convince key decision makers about the real economic worth of quality training, once and for all.
Here in the UK, April means one thing (OK, apart from April Fools' Day, chocolate eggs and the spring cape I'm slightly too attached to!). Yes, it's time to whip out the Happy New Fiscal Year party hats as we welcome in the new financial year! For many L&D pros out there this period has meant totting up all the awesome learning that's happened over the last 12 months and convincing budget gatekeepers why it needs to continue.
Even if you've not spent recent weeks tucked away in the counting house pouring over year-end figures (nod to my friends across the pond!), monitoring ROI always matters. What's more, the economic value of training can be notoriously tricky to demonstrate.
No fear! My upcoming book Unleashing Superheroes is on its way to help you do just that. In the meantime, and in the spirit of the season, let's explore some of economic pros of awesome training and be ready to answer those questions (or demands!) like, "Training's all good and well but show me the money!"
The Economic Benefits of Training
Today, most businesses provide some level of staff training. In fact, the amount spent on training in the US is growing as employers try to plug the skills gap. So much so, that businesses provide each employee with an average of over 32 hours of learning per year. No wonder many businesses are asking if it's all worth it? The short answer is, 'yes'. Here's why.
Power Profits
You can dust your brow in relief because all that money you spent on staff development wasn't going down the drain (so long as you spent it on the right kind of training that is!). In the knowledge-based economy of today, internal training does lead to higher company profits. For example, managers with high or basic managerial skills create 48% higher company profits. So it's clear that upskilling staff across seniority levels is worth it. Phew!
Super Strength Relationships
However, before we all get blindsided by dollar signs, let's remember no one wants to feel like a number. In fact, 31% of workers believe employers care more about profits than their employees. The awesome thing is that quality training doesn't just boost profits. It fosters stronger relationships between employer and employee.
(Wo)Man or Machine?
When employers invest in training they invest in  developing people and that makes staff feel satisfied and valued. It pays to keep your staff happy because happy workers are 12% more productive. Who wouldn't want to feel less like a number and more like a superhero (well, apart from Chris Wolff who can pretty much be both!)?
In it for the Long Haul
Once you've got the perfect squad of superheroes together, you don't want them flying off and taking their talents elsewhere (not just yet anyway). This is where investing in the right training really counts. You have the power to deliver awesome L&D that meets staff needs, gives learners that sweet taste of success and keeps them coming back for more. To achieve all this your training needs to be super engaging.
The good news is most staff don't want to be hopping around company to company every second. Most modern workers want to stay put, do meaningful work and grow. In fact, 53% of millennials said they would stay in their current job if they could learn new things and develop. L&D to the rescue! By delivering showstopping training you can meet modern workers' needs and hold on to that talent pool.
Can it be done? 
So, we've seen successful training has three core benefits, increased productivity, staff retention and profits. To find out how to achieve this golden trio, let's look at awesome online learning in action (and see what happens when it all goes bottoms up!).
What Failure Looks Like
Michael Beer's (et al.) book and accompanying article, 'The Great Training Robbery' highlights the risks of investing in the wrong type of training. He explores the importance of embedding strong training within a positive learning culture. I agree wholeheartedly!
By simply throwing training at staff, without the supportive learning culture to back it up, positive behaviour change will remain a distant fantasy. Beer gives the example of classroom based training that was rolled out to all staff at Electronic Product Division.
Although the training feedback was positive, an assessment of the programme's long term benefits revealed it had created little behavioural change. Respondents said the training had not increased effectiveness or performance.
Beer warns that failed training is not simply poor ROI but can have wider consequences, such as triggering cynicism among the workforce.
What Success Looks Like
In our mission to Unleash Superheroes and foster lasting organisational change we need to identify exactly what successful training looks like. Here are some great examples of lasting organisational change created by successful training.
1 The Cheesecake Factory
One of the more well known L&D success stories comes from The Cheesecake Factory. This restaurant chain, invests about $2,000 a year in training each employee and their investment definitely pays off! Staff retention rates and sales are well above the national average With sales of over $1000 per square foot (industry average is $500). #Cheesecake anyone?
2 Discovery Financial
Discover Financial is another global company that successfully used brilliant online learning to boost their profitability. They overhauled their training programme to include 70% eLearning, video and self-study content. This led to 6% increase in employee satisfaction and 42% less attrition.
3 GAME
I couldn't leave you without giving a cheeky mention to one of Growth Engineering's own partnership success stories! GAME, a leading video game retailer in the UK and Spain, teamed up with Growth Engineering to create an engaging online learning platform. GAME staff really connected with the appeal of gamified, social learning which kept their engagement levels soaring. This learner engagement was reflected in performance and profits, with sales figures for certain product lines increasing by an average of 37% across trained stores!
—————————————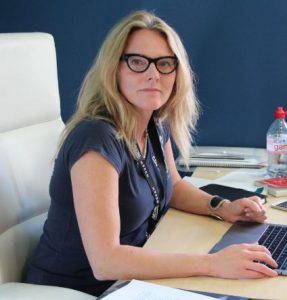 The facts speak for themselves. It pays to invest in the right kind of training. So, if you want happy staff, who stick around, perform and boost profits, it's time to unleash their inner superheroes! How? With engaging training that's embedded within a supportive learning culture.
My book, Unleashing Superheroes, will empower you to create lasting organisational change and the economic benefits that come with it. Let's start a learning revolution!
Follow me on Twitter and LinkedIn to get all the extra juicy details on unleashing your inner superheroes!