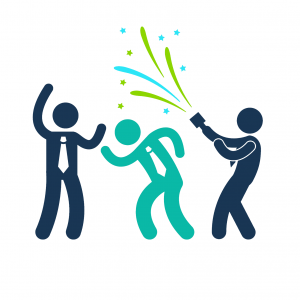 Stop what you're doing and listen up: Growth Engineering won THREE coveted awards at the 2014 E-Learning Awards gala evening on 6th November!
We were shortlisted for five awards (find out more here) so it was absolutely fantastic to scoop three of them! Here's what we came away with:
Bronze for Best E-Learning Project – Private Sector in conjunction with the incredible Bensons for Beds (read the case study!). Noel Jolly, Head of HR for Steinhoff Retail (which Bensons is part of), was among five of our wonderful clients who joined us for the exciting awards ceremony at the London Marriott Hotel, and it was a delight to share the stage with him to celebrate Bensons and Growth Engineering's combined success.
The second award was another Bronze, this time in the Best Learning Management System Implementation, which we won with Brakes for the impressive Brakes Academy (read the case study here!). The awesome Ian Moreton-Thickett joined us on stage to pick up the award – and share a celebratory glass of wine (or three)!
Finally, we were blown away to receive GOLD in the special e.learning age Outstanding Learning Organisation Award category – a huge honour that we are delighted to have won! As we often say, Growth Engineering isn't just a Learning Technologies company. We're an organisation that's on a mission to shake up the online learning landscape, force a revolution and transform learning from something dull and boring into an experience that excites, delights and engages learners. To be recognised as shaking some life into online learning is fantastic, and something we're incredibly proud of.
Juliette Denny, Managing Director of Growth Engineering, said: "What an honour! We won a Silver award last year and thought we couldn't feel any better than we did then, but this is even more incredible! Thank you, e.learning age, for putting on yet another incredible evening. The E-Learning Awards have seen ten years of excellence – let's raise a glass to another ten!"
We may not have come away with all 5 of the awards we were shortlisted for, but for us – and our lovely clients – we feel like we've achieved something spectacular, particularly when we consider all the other accolades we've received this year: three Brandon Hall Excellence Awards (including an award with Azlan Tech Data) and very impressive rankings from eLearning expert Craig Weiss of #1 NextGen LMS, #1 Gamified LMS and #1 LMS in Europe.
So please join us in toasting the success of our clients, who work so tirelessly to implement our learning solutions into their organisations, and to all the Growth Engineering team for their dedication to striving for greatness.
See you all next year for more of the same!
Want to find out more about our multi-award winning Gamified Social Academy LMS and what it can do for your organisation? Click the button below and fill out the form!
[hs_action id="7083″]