This week's Learning Hero is Andrzej Marczewski!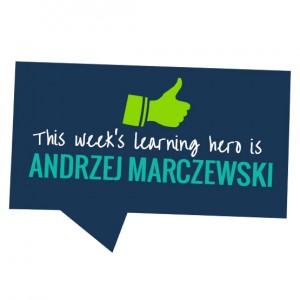 We've picked Andrzej as Growth Engineering's Learning Hero this week because we think he's an expert on gamification – just check out his website to see for yourself!
We're incredibly lucky that Andrzej is going to be a keynote speaker at our Gamification Seminar, which will take place in July this year (more on this soon – we're super excited!).
Andrzej has worked as a web developer since 2000 and he now manages Capgemini UK's intranet, which is used by around 9,000 employees. He's always had a passion for games, having grown up playing them with his dad, and in 2010 he combined his skills to start writing about all things gamification.
Andrzej has quickly become a trusted thought leader on gamification and he now advises companies, has written a self-published book (check it out: Gamification: A simple introduction & a bit more) and has given several international talks. He said: "Gamification has become as much of a passion of mine as games have been all my life. The potential to improve almost any aspect of life using the lessons we can learn from games and psychology is truly exciting."
Here's how you can find out more about Andrzej:
Go to his website: Andrzej Marczewski
Follow him on Twitter: @daverage
Connect on LinkedIn: www.linkedin.com/in/andrzejmarczewski
Want to find out more about gamification? Click the button below to read our gamification white paper!
[hs_action id="3487″]