This Week's Learning Hero is An Coppens!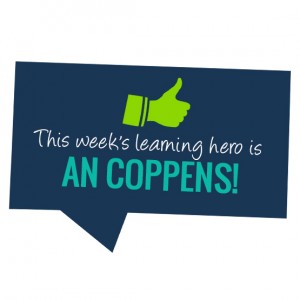 This week, while we were coming up with the latest learning hero, An Coppens' name popped up. We'd just seen her speak at the E-Learning 20-20 seminar last week and she was fab! The conversation went something like this:
"Why don't we include An Coppens?"
"I think she's already been included."
"Are you sure? I can't see her here."
"She must be there somewhere."
Due to some collective oversight, it has taken us until now to award An Coppens with one of our much-coveted Learning Hero badges. Well now we're more than happy to correct that oversight!
So what makes An Coppens such a deserving candidate?
An is an award winning business coach who is just as evangelical as we are about the power of gamification. If you're new to the term, An defines it thus: "Gamification is the application of game dynamics, game psychology and game mechanics to non-game situations and applications".
Like us, An believes that real results can only be achieved if the effort is made to engage those involved, regardless of whether that's in sales, recruitment or learning and development. The best way to make these things engaging is to make them fun, and gamification is the best way to do that.
In her E-Learning 20-20 talk (view the presentation here), An dismissed common misconceptions – for example, it's still a widely held belief that the world of gaming is populated mainly by children and teenagers. We learned that a mere 18% of gamers are below the age of 18, whereas a whopping 53% are between the ages of 18 and 49!
An is not blind to the potential of facts such as this. As the Chief Game Changer at Gamification Nation Ltd, An offers her expertise and provides online learning programs that bring out the best in people and turn businesses around. As well as her work at Gamification Nation, she's also an author and, as we've seen, a very interesting speaker!
If you want to find out more about An and her work you can visit her website, or check out Gamification Nation for more information about the biggest thing to happen to learner engagement since gold stars! Don't forget to keep updated with the latest news from Anland by following her on Twitter or Facebook. There's also a whole other Twitter feed from Gamification Nation to make sure you never tire of gamification-related tweets!
Figuratively speaking, we're skipping through a meadow of engagement alongside people like An Coppens. If you're tired of sitting on the sidelines watching everyone else have fun, click on the button below to find out how gamification can take your business to new levels of success!
[hs_action id="6973″]