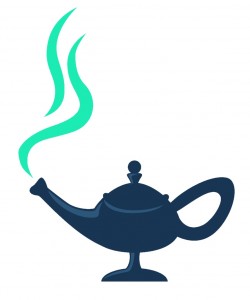 On Valentine's Day 2015, we thought we'd give all of our lovely readers, customers and learners a very special treat. We created an amorous V-Day themed comic to spread the love and show the world that romance isn't dead!
The comic was a huge success (who knew people loved a love story?) and, as we did with our previous comic, Night of the Learning Dead, we decided to transform There's Something About Genie into a video!
The comic opens with Al, an L&D manager, looking all googly-eyed at Jasmine, who works next door in the HR department. Al has been trying for months to get Jasmine to notice him, but nothing he does has worked – she has no idea he even exists, the poor chap.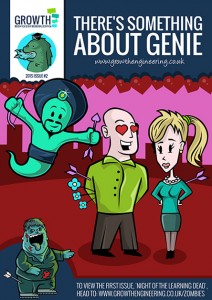 With time running out before Valentine's Day and Al being a romantic at heart, Al knows he has to do something quickly if he is to win Jasmine's heart before the big day. Then the perfect opportunity seems to present itself: the HR department needs a new piece of health and safety eLearning, and who better to create it than Al?
"Here's my chance!" thinks Al. "If I create an awesome piece of eLearning, Jasmine is bound to notice me and fall in love!"
Oh, Al. If only creating jaw-dropping eLearning is as simple as you…
Will Al succeed in his mission to win Jasmine over and have a Valentine's Day to remember? Or will he fall at the first hurdle and torment Jasmine with a mind-numbingly boring piece of eLearning that sends her straight to sleep…?
Check out the video below to see how Al's plan pans out – and watch out for Genie's magical arrival!