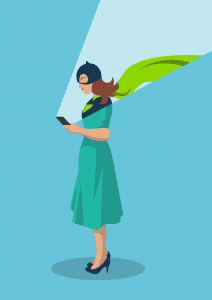 How do you know if your online learning roll-out is going to work? You may have secured the funds, researched Learning Technologies companies, signed the contract and have all the best intentions, but unfortunately that doesn't guarantee you success.
Whilst setting aside funds for training is a good start, organisational growth takes a much larger commitment.
What is the Key to a Successful eLearning Campaign? 
If your eLearning programme is to be successful, it needs to be embraced at every level – from senior management who decide on the training budget, all the way down to the workforce who will actually take the training.
Many Learning Management System implementations fall at the first hurdle because L&D professionals fail to provide any real engagement strategy. If you fail to get your workforce engaged in their own development, you cannot expect your training campaign to be a success!
Look at it another way: you wouldn't sign up for a gym membership if you weren't prepared to put in the time and effort it takes to get fit, lose weight, or build your biceps.
Training and learning is no different. If you're not prepared to flex your engagement muscle, there's little point of initiating the campaign in the first place.
Of course, support at every level depends on the quality of eLearning material presented. If the content is smart, relevant and informative, then it's pretty likely to capture the imagination of learners.
Develop an Engaging Strategy
However, it's not only about the eLearning itself: there are many other ways to bolster learner engagement throughout eLearning campaigns. It is up to those in positions of leadership to develop an enticing engagement strategy by:
Motivating staff to want to learn and offering a reward for doing so.
Outlining and advertising the benefits of the training.
Providing a clear, consistent message.
In our view, an engagement strategy starts with the creation of engaging learning content that is supported by L&D professionals who then provide the engagement strategy for their workforce.
After that, the key to securing learner engagement is to provide an emotional 'hook'. You want to get the learners 'hooked' on their training, and achieving this involves giving the learning programme extra meaning.
After all, effective learning revolves around the manipulation of our emotions. And the best tool for doing this? It's gamification – the process of applying game mechanics to non-gaming environments. It's a great tool for gripping learners emotionally, because by adopting game mechanics like badges, awards and leadership boards, you are adding an entirely new level of involvement – an epic meaning.
These trinkets – badges, points – satisfy our basic human need for reward. They act as markers of our hard work.
Upon collection, something in our brain says, "I like this and I want more!" and compels us to continue.
Final Word
Engaging your workforce during a training campaign is one way to ensure that it earns the maximum ROI possible. If you fail to get your team engaged, you are committing yourself to earning only the minimum level of return on your investment – and sometimes that simply isn't good enough.