Your Engagement Engine Workbook
Your Key to a healthy return on your training investment
Hey, guess what? Your learners have a thousand other things they'd rather be doing than working through your training programme. Don't go clearing your desk just yet though – there are still ways to grab their attention, keep them hooked and even convert them into knowledge-hungry super-learners!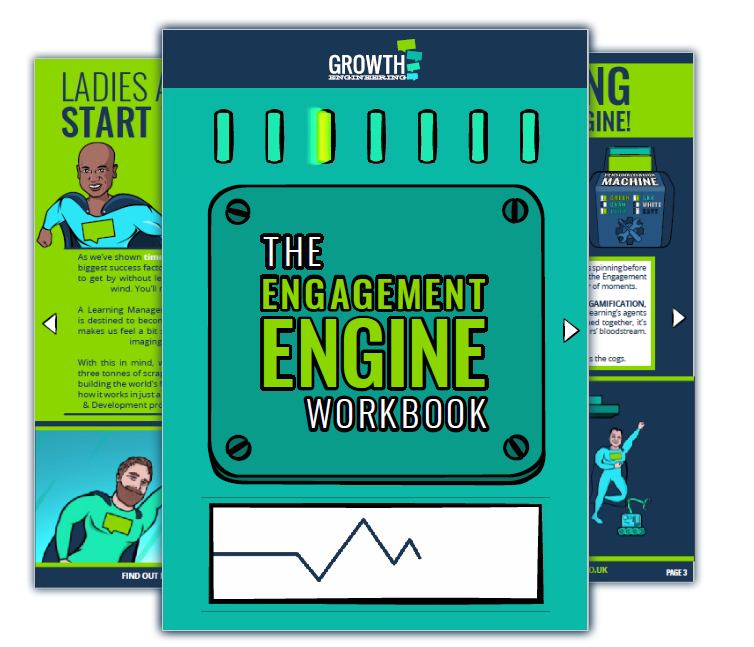 We've devised a simple 2-step plan to help you combat the learner apathy.
Step 1: Bin that legacy learning platform that's giving you such a poor ROI
Step 2: Download our Engagement Engine Workbook!
In this interactive guide, you'll learn all about the Engagement Engine – the training solution that gives your people a learning experience they can actually enjoy! You'll find out about the essential components that drive intellectual capital, trigger behavioural change and deliver the kind of return on your training investment that you've been dreaming of!
What's more, this isn't our workbook – it's your workbook! We'll guide you through some simple questions to help you define what your training programme is trying to achieve and how to do that effectively and in a way that your learners won't be able to resist!
By the time you've completed it, this workbook will serve as the rock-solid foundation of a training programme that's built around engaging your learners – and with engagement as your keystone, you can't lose!
All you need to do is fill out the form and your workbook will be with you in no time!
Note: For best results, save the PDF and open it in a PDF viewer (eg, Adobe).