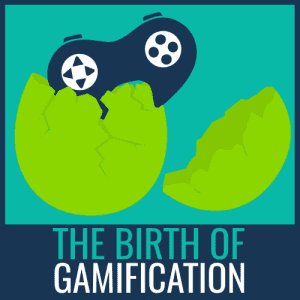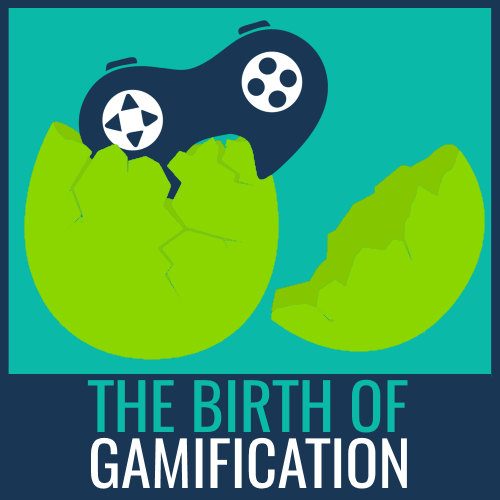 Last week we took you back to a strange time. It was a time when games were games, and work was work and we were just starting to see the potential of combining the two.
During the latter part of the 20th Century, people were beginning to consider games as a way to increase productivity in the workplace. With the conception of Frequent Flier rewards, the power of game mechanics to engage customers was also realised.
We had our successes and we had an inkling of a truly effective model for engagement – the only thing we were missing was a name…
[us_separator type="default" icon="fas|star"]
2002 – 'Gamification' is born
While designing a game-like user interface for commercial electronic devices (ATMs, vending machines, mobile phones) Nick Pelling coins the 'deliberately ugly' word, gamification.
Also this Year:
America's Army is released, dubbed by the U.S. Army to be a "cost-effective recruitment tool".
The Serious Gaming Initiative (a project of the Woodrow Wilson International Center for Scholars) is founded.
[us_separator type="default" icon="fas|star"]
2005 – The First Modern Gamification Platform
Rajat Paharia founded Bunchball, a platform designed to boost engagement on websites by adding a layer of game mechanics.  It would be another 3 years before they adopt the term 'gamification'
Also this year:
Microsoft's Xbox 360 Gamerscore system is introduced, standardising in-game achievements.
[us_separator type="default" icon="fas|star"]
2007 – Gamification in the home
This year, Kevan Davis develops Chore Wars. The site is designed to incentivise the act of doing chores by turning it into a game. With its fantasy role-playing game theme, Chore Wars finds favour with parents, children and even fastidious flatmates!
Also this year:
[us_separator type="default" icon="fas|star"]
2008 – Gamification goes on record
In a blog article covering his time at the 2008 Social Gaming Summit, Bret Terrill is documented as using the term 'gameification' for the first time:
"In conversations, one of the biggest topics … is the gameification of the web. The basic idea is taking game mechanics and applying to other web properties to increase engagement."
Unfortunately for Bret, his particular spelling didn't stick!
Also this year:
Sony begins offering Trophies for the PlayStation 3.
[us_separator type="default" icon="fas|star"]
2009 – Gamification: here, there and everywhere
2009 saw the launch of Foursquare, an app allowing users to search for and discover new places. Aside from being a social tool, foursquare also let users collect badges and other achievements.
For example, by checking into the same place more than anyone else within a 60 day period, the user could become the 'Mayor' of that location.
Also this year:
Gamification platform, BigDoor, is founded and starts providing gamified customer-loyalty solutions.
[us_separator type="default" icon="fas|star"] By the beginning of 2010, gamification was getting the recognition it deserved. But things were about to get
really
interesting. As gamification starts to go stratospheric, Growth Engineering are locked in a fight-to-the-death against dull online learning. As the mission to make learning fun continues, gamification looks like a promising addition to their arsenal…
Find out about the birth of gamified online learning and more in the final part of our History of Gamification series.
(Want to see how far we've come? Check out our Gamification page!)