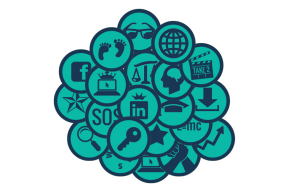 We love badges. Big badges, small badges; praise badges and achievement badges. You might say we're badgetastic; maybe even badge-ariffic. Incredi-badge. Disclaimer: we are in no way affiliated with badgers.
We've seen first-hand how well badges work to motivate a team. Our Sales Superstars are awarded real-life badges during workshops as well as virtual badges for taking eLearning modules online, completing tests and assessments as well as interacting with each other, exploring their Learning Management System and sharing their achievements over social media.
Some badges are more desirable than others, of course. There are some badges that are so rare and difficult to attain that they develop mystical powers. Like the unicorn, everyone has heard of them but haven't seen – or received – one themselves. But unlike the unicorn, these magical badges of ultimate motivational power do exist. Here are 5 of our top badges that have our Sales Superstars champing at the bit and kicking up a cloud of dust behind them in their rush to get their mitts on them: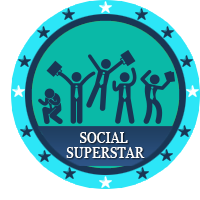 1. Social Superstar
These Superstars are great talkers. They're friendly, enjoy a good chat and really help to bring the mood of the whole workshop up a few notches. Learning is difficult – if it was easy, what would be the point? – and as such it's important to have a few Social Superstars in a group.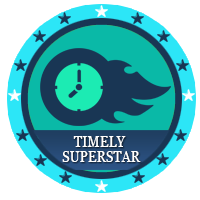 2. Timely Superstar
Punctuality is such an important quality in a salesperson – your client wouldn't accept you being late to a meeting, so you should make sure to arrive in plenty of time to a workshop, too. These badges are like golddust; only one of these beauties is given out per workshop, so there are only 4 chances to gain this accolade. It certainly makes getting up early worth it!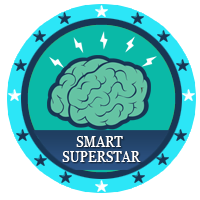 3. Smart Superstar
How nice to be known as the brainy one of the group! Smart Superstars are those that make a great point, solve a problem, come up with a better way of doing something or are just generally clever clogs who make a real difference to the workshop. All our Superstars are bright, of course, but the ones that get this badge are the kind that wear their smartiepants over their trousers!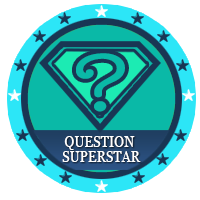 4. Question Superstar
It's not enough to sit back at a Sales Superstar workshop. To develop into a great salesperson, our Superstars need to understand the importance of asking questions. Questioning, as you should know, is a tricky skill to learn – it's more than simply asking something; questions need to be well formulated, appropriate and relevant. No points for asking where the toilet is if you were already shown it in the Grand Tour of the GE Office, eh!?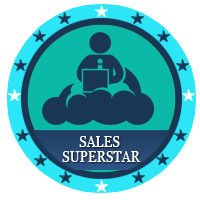 5. Sales Superstar
This is the ultimate badge: only the very best of the best on our Sales Superstar course will actually receive the coveted Sales Superstar badge. They'll be given the title and be able to call themselves the Sales Superstar. As in, the best. The one and only. The almighty. Sometimes we have to help them down off their high horse after awarding one of these bad boys.
There you have it – the top 5 Sales Superstar badges and why our Superstars love them. Want to find out more about why gamification features like badges, points and leaderboards motivate and engage learners? Just click the button below!
[hs_action id="4610″]