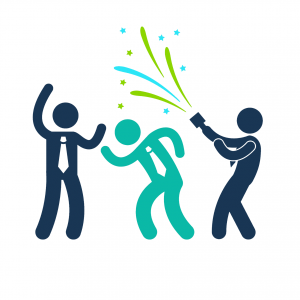 Social learning plays an important role in our Academy LMS. Our social learning features encourage learners to collaborate and share their knowledge, expanding their skillset, increasing learning and improving motivation.
It's all because learning, like a lot of things in life, is more fun when other people are involved! Fostering a social environment makes great learning journeys even more awesome, making the whole experience not only inspiring, enjoyable and engaging, but also collaborative and friendly, too.
Traditional learning can be quite a lonely experience. In classrooms, learners are told not to talk, not to copy each other's work and certainly not to sit near each other during tests. And traditional classroom training is similar – without next generation functionality, learners may as well be solo on their Learning Management System, since they don't get the chance to interact with others or even know of their presence!
Our Learning Management System, on the other hand, is a next gen LMS that revolves around social features and gamification functionality to make learning much more fun, engaging and sociable.
Learners are able to chat with their peers about what they've been learning, share ideas, collaborate to solve problems and expand their knowledge in ways they could hardly have dreamt of when they embarked on their learning journey.
Learning on the Academy LMS is never lonely! And because learners are happier, more engaged and chatting about the learning topics, they actually learn more, too. This is because a great proportion of our knowledge comes from 'informal' learning – around 90% – compared to 10% of knowledge which we gain via 'formal' learning, like classroom training and eLearning modules.
So being able to continue recalling information and learning more about the topics after the initial formal training is very beneficial for learners; their knowledge increases far more than it would do if they simply took an eLearning unit (or attended a classroom training event) and then left it at that.
Check out the video below, which explains some of the Academy LMS's social features that will supercharge learning!
Want to find out more? Sign up for a demo tour of the Academy LMS by clicking the button below!
[hs_action id="5176″]