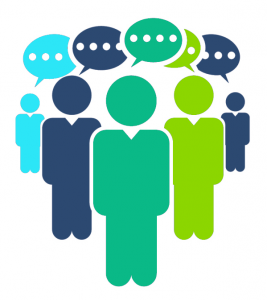 Our Learning Management System, the Academy LMS, is already a multi-award winning learning paradise brimming with gamification and social learning functionality. Of course it's been ranked #1 in the world – it's designed to drive success on an individual and organisational level, and it does this with spectacular finesse.
But we're never satisfied with being just 'the best'. We want the Academy LMS to be the best possible learning platform for learners – we want them to enjoy logging on, love learning new things and adore gaining achievements for their actions. That's why in 2014 we rolled out the 'Insights Groups' area of the Academy.
The psychology of social learning
As much as we hate to admit it, our brains are essentially great big, complex sieves: information goes in and over time, it leaks out. In the end, our brains store only a fraction of the information that we originally took in.
Wouldn't it be nice if we were able to plug this leak? The 'forgetting curve' theory tells us that most knowledge delivered through formal training is lost within 7 days if it's not reinforced (but don't mistake 'reinforcement' for 'recall tests' – they are not the same thing!).
But don't despair. There's a way to battle back against the 'forgetting curve', build barricades around your brain and protect yourself from the merciless march of time. In order to get the most from your training budget you need to make sure the content is discussed, debated and applied. Unfortunately, this informal aspect of Learning & Development has often been difficult to capture through an online learning platform. Until now…
Nurture your knowledge
Evidence shows that learning doesn't end when we click the 'X' in the corner of an eLearning unit or leave a classroom. That's why we developed Insights Groups – to make it easy for learners to continue learning after the training event.
As you'll see in the video below, Academy Admins can create specific topic areas that relate to the learning content, the business principles and the industry in general. This can be anything as specific as 'Industry Law #426A' or as broad as 'Sales tips'.
Learners can then join whichever areas interest them most and start conversations around those topics. Social learning keeps their brain juices flowing, keeps them learning and testing their knowledge, and makes sure the information stays firmly put where we want it – in their noggins!
Want to find out more? Get in touch by clicking the button below!
[hs_action id="5176″]