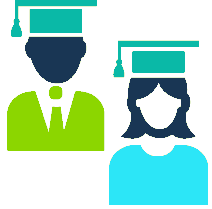 On Thursday 1st May, all our clever Sales Superstars piled back into the office for another full-on but fun day of knowledge sharing. The two units the Superstars tackled were ISMM Unit 201: Understanding the Laws and Ethics of Selling and U303: Understanding Influences on Buyer Behaviour.
In the gamified morning session the Superstars had to present their thoughts on what it truly means to sell ethically, in terms of their own organisation and sales environments. It really got them thinking about times when they could have improved and helped them plan for future situations.
After a hearty lunch (learning is hard work!) the Superstars mapped out a real-life sales account to highlight all the important members of the buying decision-making unit (BDMU) and how they should deal with each.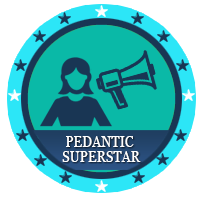 There were plenty of badges handed out during the day – in fact, Danielle even suggested her own badge for contributing consistently to every discussion, which we made and awarded to her on the Sales Superstar Academy later that day: the Pedantic Superstar badge!
We're pleased to say that the workshop tutors reported a noticeable improvement in the quality of the Superstars' assignments, presentations and discussions, and the Superstars have been going gamification gaga over on their Academy. Currently Ed is still at the top of the leaderboard, so he gets to tell us what he thought of the workshop:
Ed says: "Back in the classroom for Workshop 2 of the Superstars course. There had been a few developments within the group since the last workshop, from new jobs to a new baby! But more importantly [Nice to know where your priorities lie! -GE] we had all used our Unit 301 and 302 learning in real-life situations quite a few times.
Units 201 and 303 were all about ethics and buyer behaviour. An altogether tougher pair of modules, I think we all agreed, but there was some excellent work yet again. There was a lot of great feedback from the tutors and the day gave me the chance to work on my presentation skills once more.
I'm thoroughly enjoying the course, and find myself going from strength to strength. The next two modules I feel are certainly going to be most relevant for me – U304: Understanding Customer Segmentation and Profiling and U307: Time and Territory Management. Bring it on!"
Written by Ed, Sales Superstar and #1 on the Leaderboards
About Ed: Ed is a New Business Development/Sales Consultant for a printing company. His dream is to have his own business, ideally something fast-paced that excites him. He loves talking to people and wants to progress his career in roles where he gets to do that. Ed said: "I feel that I'm held back by a lack of relevant industry experience and a lack of confidence in interviews. I think the Sales Superstar Programme will iron out the rough edges I have no doubt developed and will drive me forwards in terms of both my personal and career development." Find Ed on LinkedIn here: Ed Ewer.
Want to find out why gamification works to get our Superstars fired up and ready to learn? Click the button below!
[hs_action id="3487″]