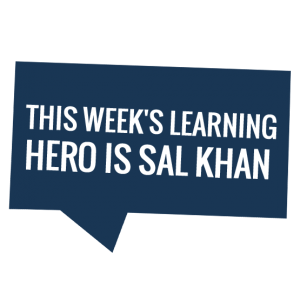 The competition was very tough over at Growth Engineering HQ, with each employee striving to get their Learning Hero nominee selected as the first winner of this most prestigious badge of honour.
But the clear winner this week is Sal Khan, founder of the Khan Academy, nominated by our sales bloke (aka Sales Director), Simon, for "creating the Academy in his name and helping to change the way people learn, making it accessible to all". Great choice, Simon!
We picked Sal Khan and the Academy partly because we admire and have an affinity for their mission – we're also a small team trying to improve the way the world learns, and we too recognise the awesome power of gamification – and also because we think Sal and his team are just fan-bloomin'-tastic!
If you don't know much about the Khan Academy, here's a quick rundown:
– It's a not-for-profit organisation looking to provide free world-class education for anyone, anywhere.
– All of the Academy's resources are free to everyone – students, teachers, stay-at-home dads, politicians and the Queen.
– The Academy's courses cover maths, physics, chemistry, biology, history and even finance.
– Folks at the Khan Academy love gamification almost as much as we do! They've supercharged their Academy with points and badges, some of which take years to achieve – great motivation to carry on learning!
So well done, Sal and the Khan Academy team, for making such a valuable contribution to the world's learning. We hope one day we may be recognised alongside you as providers of awesome, life-affirming eLearning.
For more info on the Khan Academy, click here.
If you want to know how we're using gamification (and why our gamified Academy has been ranked the BEST in the world!), check out our presentation by clicking the link below.