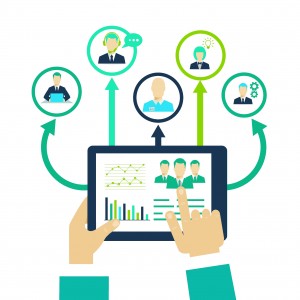 The goal of Learning and Development programmes is ultimately to make change happen in the workplace. Once a problem or discrepancy is identified, it's the job of L&D to step in, create a plan of action and put training in place to solve the issue or bridge the gap between knowledge and action.
This is easier said than done, however. There are many things which may stand against successful training programmes at work – time constraints, lack of budget, lack of buy-in from senior management, lack of employee engagement, and more.
Even just designing the training – before rolling it out or assessing its effectiveness – involves meticulous planning, numerous considerations and some trial and error.
[us_separator type="default" icon="fas|star"]
[hs_action id="15217″]
Picking the right training solution
How can you really be sure which training solution is best for your organisation? What will your employees respond to? When it comes to training, you can't judge an employee's receptiveness on their age or other demographics.
Just because someone is older doesn't necessarily mean that online learning won't be an effective training solution. Anyone can learn to use a Learning Management System, especially one like the Academy LMS, which has an intuitive interface specifically designed to engage learners and be simple to use.

Selecting your add-ons, extras and ooh-la-las
Again, don't let preconceived notions get in the way of creating what could be a really engaging training programme for employees.
Take gamification for instance. You might be concerned that the older population of your employees won't enjoy receiving badges and points for undertaking their training, so you might steer clear of gamified training plans. However, evidence shows that gamification actually works for all demographics – let's face it, who doesn't like playing games? We've all been doing it since we were kids!
Securing sign-off
Even when you've got the bare bones of a plan in place, you'll likely need to get sign-off from senior management. This might be difficult if you can't prove to them the expected return on investment from the training. After all, they need reassurance that the training will be successful, that the investment won't be wasted and that they will get to see real, lasting behavioural changes.
They might also have reservations about the particular training programme you go for. Take eLearning for instance. It often has a bad reputation for being boring, ineffective, difficult to monitor and generally pretty useless. But that's just it – it's only a reputation. Of course you'll think 'all' eLearning is naff if you experienced a really awful eLearning module that made you want to pull out your hair and climb out the window. But not all eLearning is like that – nowadays it's sophisticated, engaging, fun and incredibly effective.
There may be other criticisms of online learning that are holding senior management back from signing off on your exciting new training solution. We put together 28 top tips for launching a successful LMS, which you can use as ammo to fire back when management are giving you the run-around. Download it for free below!