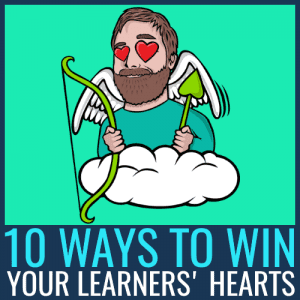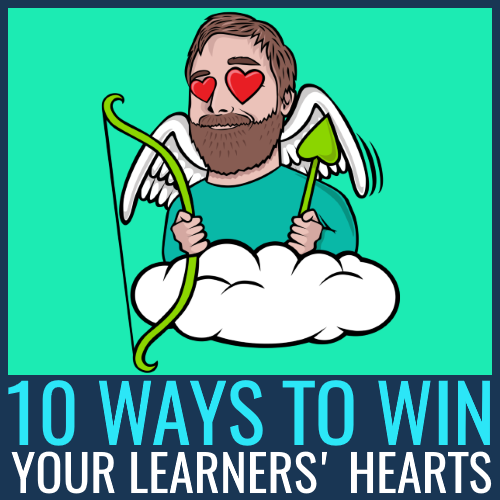 Find out how to create a more engaged learning experience and give your learners something they'll love!
What is love? This eternal question has been hotly debated by everyone from the greatest philosophers and scientists to your local barista, fellow commuters, and even your learners. Love matters because it feels good (usually!) and gives our lives meaning. Just ask Google, your playlist or any bestselling books chart. One thing's clear, people care about what they love.
In the 'Kiss, Marry or Avoid' stakes, online learning is often the one getting the boot! Often, people have become fed up and stuck in a rut with the same old training techniques. No longer! It's time to reignite the spark, get down on one knee and seek out learner engagement levels that dreams are made of!
Follow these ten tips to make your learners fall in love with your online learning creation! Watch the Love-o-Meter grow as each engagement method raises the temperature of your training!
1. Personalisation    
Everyone wants to feel special. Your learners are no different. Remembering someone's name and what makes them unique is a good place to start, and may get you a second date! In the online learning world, personalising your training will help build a more engaged learning journey. Ask questions to find out more about what makes your learners tick. Here's some to get you started:
What's their name?

What are they hoping to learn?

How will they apply what they learn?
You can use tools, like our Discovery Method, to make the content speak on a personal level to each learner. Make sure your questions are meaningful and tie in with the theme and objectives of the wider content. Make your learners the protagonists of their own learning story!
2. Narrative    
So, you've piqued your learner's interest and transformed them into the hero of their very own attainment adventure. But, no story is a success without a strong plot! What do the greatest love stories and most successful eLearning courses having in common? A compelling narrative that pulls people in and keeps them hooked to the very end. A gripping learning narrative will hold your learner's interest through to the course's epic conclusion, and beyond. Keep your narrative on-topic and relevant to create engaged learning that's unputdownable!
3. Epic Meaning    
Before we commit to anything, be it a book, a relationship or an online learning course, we need to know what's in it for us. Ask yourself, 'why should learners care about doing my training?' This is where Epic Meaning comes in. Put Epic Meaning at the heart of your training to ensure they understand its purpose and drive engagement. Your training probably won't solve the meaning of life, but make it clear to your learners why it matters. Read on to discover how to add this magical ingredient to your learning love potion!
4. Clear Pathways    
Many of the greatest love stories have that perfect blend of surprise and predictability. It's the same with real-life love. People usually like to know where a relationship is heading and how they can achieve the key milestones.
How can you harness predictability to keep your learners on a steady track towards meeting their goals? First, be clear about what they need to do to get the most from the course by setting objectives from the beginning. Let learners know when they have achieved certain targets. Engaging gamification elements, like a progress tracker, badges or certificates let them know when they're winning and help spur them on to win some more!
5. Gamification    
Sparkly rings are always nice, but brilliant badges are just as rewarding! By applying gaming techniques to non-game environments, you can add the element of surprise and anticipation to your training mix. Gamification engages your learners with surprise rewards, such as badges, when they meet their goals. The anticipation of these rewards can help motivate further activity and interaction with your training programme.
You can even spice things up with a little friendly competition, by introducing a leaderboard feature. Whether you're crushing candy, running through temples or swiping left or right, everybody loves a mobile game! So why not combine mobile, social and game features and create a game-based online learning course that's as addictive as love?
6. Goals    
#RelationshipGoals (Yes, this is a thing!). We all have them. When we achieve them, we like to let the world know. Learning is a lot like love, it can be messy but it's worth it! Although goals can sometimes seem daunting or pressure-inducing, they work. Goals help us stick at something. In fact, people who write down their goals are 50% more likely to achieve them. Set goals for your learners by making the course objectives clear from the get go. You could even use the Discovery Method to encourage learners to set their own goals on how they will apply what they've learned.
7. Mobile Ready    
As the world becomes ever more digital, people are relying on their smartphones for everything from entertainment, to the weekly shop, to finding that special person. Over 6 in 10 smartphone owners (and that's most of your learners) now turn to their mobiles to answer health questions, manage their finances and apply for jobs. With the easy accessibility and user-friendly nature of phones, they are now go-to technology for just about every aspect of daily life. If you're eLearning's always the bridesmaid and never the bride, then perhaps it's time to make it mobile-ready.
8. Social    
People like to share. Share the love, share their successes, share their thoughts! That's why you should make your training as social as possible. By giving your people a platform to share their learning experiences, you can foster a collaborative learning environment. Keeping it social also motivates people, not only to complete the learning, but also to apply it to their real world work environment and cement positive behavioural change. Setting up discussion groups, access to experts, learner personal profiles and more will all help add the social sizzle.
9. Bite-sized    
Too much of a good thing… can be amazing! But did you know that unless learners implement what they've learned straight away they can forget up to 50% of it? How do you solve this? Use bite-sized learning to break your course up into manageable, digestible chunks of content. These can then be drip-fed to your learners and delivered at relevant, spaced-out intervals. This type of learning is perfect for mobile platforms. Tackling learning in bite-sized pieces of loveable goodness will build anticipation, enhance engagement, and light the fires of passion (within your learning department, obviously!)
10. Visual Impact    
Last but not least, make sure your online learning inspires that all important spark! Looking good is a surefire way to transform your training from the ugly frog into handsome royalty of your learners' dreams. Superficial as it may sound, humans are visual by nature (well, most of us). No need to get a new haircut just yet! Once you've filled your training with deep meaning, clear direction, a solid story line, gallons of gamification, social sizzle and personal impact – make it jump out of your learners' mobile screens with visual impact. To 'wow' your learners, your training needs to look good. To create eLearning eye candy, add clear graphics and relevant imagery that intuitively ties in with the theme or message of your online learning and it'll be love at first sight!
---
"All's fair in love and war"… Follow these ten tips to your learners' hearts, to win the war against dull online learning.