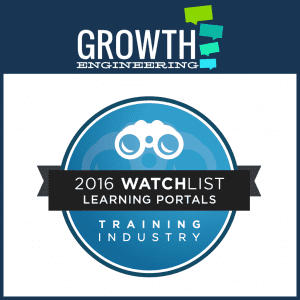 It's always such a joy to watch your children excel. Perhaps that's why we're so thrilled to see our beloved Academy LMS winning the recognition it deserves!
We've made an appearance in Training Industry's Top Learning Portals Companies Watch List. Training Industry monitors the training marketplace for exceptional providers of training services and technologies. Once they've found out who the real training pioneers are, they gather them together into their Watch Lists and Top 20 lists.
Basically, what that means is that they think that we're one of the best companies in the world to turn to when you need a learning portal, particularly if you're looking to engage people and get results!
Of course, the reason we're on this list is because of our gamified, social Academy LMS. We've poured our collective hearts and souls into making it the most engaging learning portal you're ever likely to come across!
[us_separator type="default" icon="fas|star"]
Why are we on the list?
The judges were looking for four main criteria when compiling this year's watch list, and we happened to fit the bill on each one!
New and innovative service
We've never been ones to rest on our laurels, so we're constantly improving our offering. Whether it's adding full-featured add-ons like our Performance Centre or Reward Centre, or pushing out weekly updates, there's always plenty to keep our Tech Titans busy.
Innovation is in our blood, and you can be sure that you'll always find us leading the industry when it comes to new ideas!
Unique approach to delivering learning solutions
Our laser-focus on learner engagement is something you simply won't find anywhere else. Our cohesive Engagement Engine approach sees learning delivered in a gamified, social and personalised way.

If you're keen to find out more about this unique methodology, download our free Engagement Engine Workbook!
Commitment to improving learning through technology
We know that online learning has had a terrible reputation for being dull and uninspiring. When it's done badly, you run the risk of turning your eager learners into mindless, dribbling zombies…
That's why we focus all of our efforts on developing technology which can actually engage the learner and ultimately make training more effective.
Quality of clients
Taking a quick look at our clients will reveal that we work with some real global heavyweights! But more than that, we work with amazing organisations that truly understand the importance of engagement in online learning.
Our clients astound us every day with the inventive ways they use our system, and they have a real input into its development. It's no wonder we've all filled up our trophy cabinets!
[us_separator type="default" icon="fas|star"]
If you're keen to find out what the Training Industry judges saw in us, why not take a free tour of the Academy LMS? Simply click the banner below to sign up: