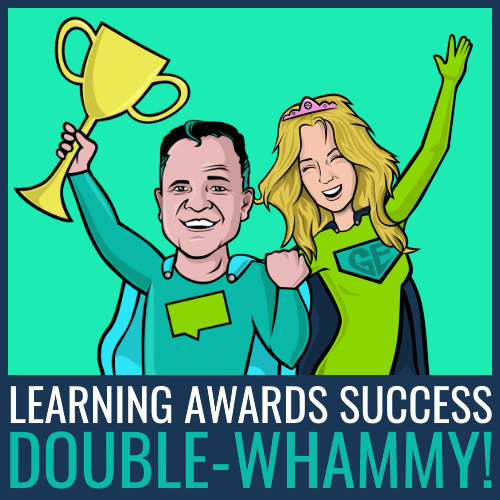 Guys! We've done it again! We've just had another double-whammy bumper pack of award-winning amazery! You might remember this post from way back in October. We'd just found out that we'd been shortlisted (along with our amazing clients) for two Learning Awards. Well guess what – we only went and won both!
The brightest and best of the learning and development community gathered together for the grand ceremony of the 21st annual Learning Awards at London's Dorchester. Our GE superheroes were already close by, having spent the day unleashing awesomeness at LT2017 in Hammersmith. They had just enough time to fly over and change into something more formal (capes don't quite cut the mustard in the Dorchester!).
The judging panel had a tough job sorting through hundreds of submissions from the cream of the learning crop. Even without capes, Team GE stood out from the crowd. With such awesome clients who clearly understand the importance of learner engagement, we were a force to be reckoned with!
So here's what we need to make (yet more) space for in our trophy cabinet:
External Learning Solution of the Year
Thanks to the hard work of the guys at House of Fraser, we picked up the silver award for External Learning Solution of the Year. Aside from making the most of our gamified, social Academy LMS, their team of admins went the extra mile to build one of the most gorgeous platforms we've seen. They made great use of the customisation options to embed their brand, vision and values across every area of the LMS.
Onboarding Programme of the Year
No strangers to the odd award ceremony, our friends at Steinhoff scooped the Gold in the Onboarding Programme of the Year category. Their onboarding process is a beautiful blend of online learning and physical workshops. Over the past five years, their Academy LMS, the Learning Store, has evolved to serve multiple branches of the company, delivering online training to different brands simultaneously. Their learning team have done a stunning job of bringing these distinct brands together under one banner and creating an onboarding programme that works for everyone.
We asked our Chief Ideologist, Juliette, for a few words and she was only too happy to oblige:
"This is freaking awesome! You know, you'd think that winning awards would get old, but every single time one of our clients shoots for the moon and lands among the stars, it just makes me so proud!"
If you're tired of walking past that empty awards shelf, maybe it's time you ditched that ineffective learning platform. With a real engagement engine on your side, you can rocket your way to real behavioural change! Don't just take our word for it – sign up for a webinar here and get a full tour!