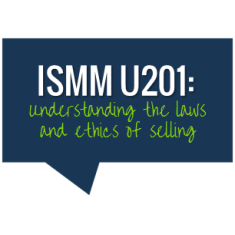 Welcome to Unit 201, 'Understanding the laws and ethics of selling'.
Contending with the legal and ethical requirements can be challenging, but it's also an essential part of any sales role. After all, the consequences of non-compliance can be disastrous on an individual and organisational level. There are no corners to be cut here – if you don't keep up to date with the regulations, you will likely face serious ramifications.
Sales professionals are often in the 'front line' when it comes to handling customer complaints. Can you muck your way through the trenches to find a suitable response? Do you feel confident enough to handle any ethical dilemma that might land in your path? Up to the minute knowledge is vital to fixing broken business relationships and avoiding mistakes in the future.
In this unit, you will learn to:
Identify the laws affecting selling in an organisation
Describe how these laws can affect the sales process
Describe the consequences for you, your organisation and the customer if legal requirements are not complied with
You will also earn an understanding of:
The qualities of an ethical sales person
The benefits of selling ethically
The importance of industry codes of conduct
And the consequences of behaving unethically in your sales role.
[hs_action id="3491″]