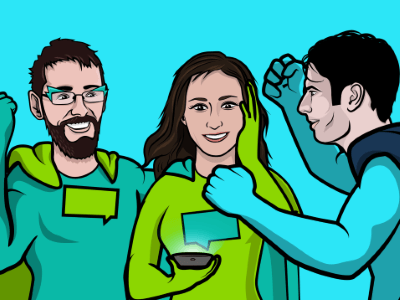 This week's Learning Hero: Jane McGonigal!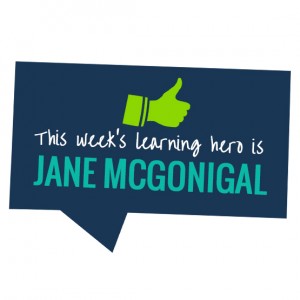 This week's Growth Engineering Learning Hero is Jane McGonigal, a gamification legend! Jane is dedicated to getting the world to spend more time playing bigger and better games – sounds good to us!
We picked Jane as our Learning Hero because of all her work surrounding gaming and her belief that games are truly important and not just a waste of time, as some people would have us believe!
In her fantastic TED Talk in 2010, Gaming can make a better world, Jane explains that gamers spend 3 billion hours playing online games every week, and that by the age of 21, some gamers will have racked up 10,000 hours! There is a theory of success (as referenced in Malcolm Gladwell's book, Outliers) which states that if we can master 10,000 hours of effortful study at anything by 21 years old, we'll be virtuosos at it.
Jane asks the question that if all these gamers are virtuosos, what exactly are they virtuosos at? The answer, she says, is that gamers have four superpowers:
1. Urgent optimism. Gamers have extreme motivation and a desire to act immediately, combined with the belief that they have a reasonable chance of success. In other words, gamers try things now – they don't wait around to be told to act. Think how valuable this could be if applied to the real world!
2. Social trust. Gamers are virtuosos at "weaving a tight social fabric". Jane cites research that shows we like people better after we play a game with them, even if they beat us – badly! This is because it takes a lot of trust to play a game with someone; trust that they'll dedicate their time to us, play by the rules, value the same goal and not stop until the game is over.
3. Blissful productivity. World of Warcraft gamers play for an average of 22 hours every week – it's basically like a part-time job. Why do they spend so long playing? Because, Jane suggests, we're actually happier to spend our time playing a game than simply relaxing, watching the TV or hanging out. This is because we, as human beings, are programmed to do hard, meaningful work – so as long as it's the right hard work, we're willing to devote a lot of our time to it.
4. Epic meaning. Jane explains that gamers love to take part in awe-inspiring missions that impact humans on a planetary scale. In other words, if the missions in World of Warcraft were simple and not focused around building, improving or saving the WoW universe, gamers wouldn't play with so much dedication.
So how can these superpowers help the world? Well, gamers are incredibly empowered and hopeful and they believe that they are capable of changing the world themselves. Jane's role in this is to convince these gamers that they are not only capable of changing the virtual world – they can change the real world, too.
She does this by setting up online games that are focused around behavioural changes that will impact positively on the world – like World Without Oil, which challenges gamers to survive without (you may have guessed it) oil, and Superstruct, whereby gamers were told humans had only 23 years left on the planet and had to invent the future of energy, food, health, security and safety.
As missions go, we think Jane's is awesome and we want to thank her for being so inspiring! Here's her TED Talk: 
To find out more about Jane McGonigal, try the links below.
Twitter: @avantgame
Website: http://janemcgonigal.com/
Book: Reality is Broken