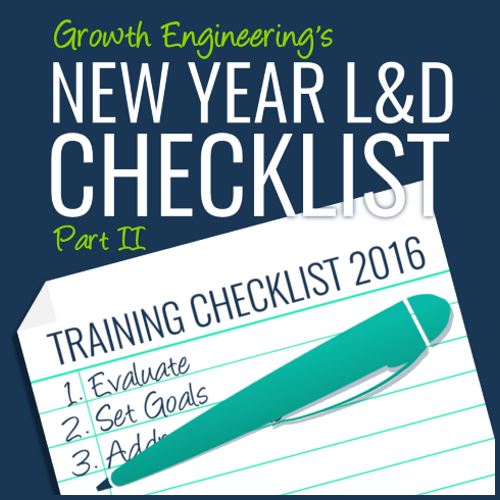 Hello again and welcome back to our New Year training checklist (If you've missed part one, you can find it here).
In the last post, we looked at evaluating the results of last year's training program, setting goals for next 12 months and figuring out what you need to deliver top-notch learning content to your learners.
This time, we're going to dive a little deeper and give you a stockingful of ideas and tips to make sure that in 2016, your learners can soar to new heights!
Ready to go?
[us_separator type="default" icon="fas|star"]
The Learning Team
Improve communication
In a survey of over 1400 professionals, 86% of respondents cited inadequate collaboration for most workplace failures. Communication is essential for good collaboration in any project. At this stage you should focus on improving the lines of communication between all members of the L&D team.
Hire an Instructional Designer
If you find yourself struggling to produce enough learning content to fulfil your needs, you might need more hands on deck. It's an instructional designer's job to mould the learning content into something that's more easily absorbed by your learners. Don't do everything yourself if you can avoid it – get some IDs on the payroll!
Collaborate with Subject Matter Experts
Make sure you have all of your SMEs on board when it comes to producing learning content in 2016. In most cases, they'll all have a pretty full plate already, but if you provide a brief outline of what you need to achieve this year (and how they can help), they will be more prepared when it comes to creating the content.
[us_separator type="default" icon="fas|star"]
Content
Audit your Content
List your existing content including any documents, videos or other handbooks. If you've followed the checklist up until now, you'll know which pieces of content are working the best and which pieces are missing the mark.
Repurpose existing content
If your content is under-performing, it's probably time for a refresh. Prioritise your list, starting with the content that's likely to have the biggest impact on behaviour throughout the company. Look at each piece as a learner might look at it. Is the learning objective clear? Does it look good, or is it simply too dull to behold?
Explore different kinds of content
If your learners' journey is too repetitive, they'll likely get bored and the information simply won't sink in. Consider whether that Health and Safety document might be more engaging as a video, or maybe your compliance course is just crying out to be turned into an exciting eLearning unit.
Invest in an authoring tool
You might think that creating eLearning is a costly and drawn-out affair, but with a collaborative authoring tool, you can get your whole team involved and repurpose your old content into something more exciting!
[us_separator type="default" icon="fas|star"]
Delivering Content
Cut costs of Classroom Training
Classroom training can be an effective method of getting your message across, but it's not without its downfalls. It can be tricky to coordinate employees, especially if your company is spread across the four corners of the world. Look at how you plan and arrange classroom events and try to find ways to improve your processes.
Get a Learning Management System
If you don't currently have a Learning Management System (LMS), you might think you have valid reasons not to invest in online learning. Maybe you think it's too expensive? Maybe you're baffled by the market and you just don't know where to start looking. Whatever your past misgivings may be, the benefits of an online learning platform are well worth looking into. Check out our white paper here to find out more.
Focus on engagement
You might already have an LMS, but is it delivering the results you want? Most LMS implementations fail due to a lack of learner engagement. The key to success is to keep your learners returning to the system again and again. It's not enough to simply give them content – They should want to consume it.
Use gamification in online learning
Engaging your learners is a significant challenge, but it's one that's made a lot easier by using gamification techniques to make the learning journey more fun. Badges recognise the learners' hard work, leaderboards encourage friendly competition and levels set out a clear learning journey. Find out how gamification can generate a handsome ROI here!
Unlock social learning
Like so many things, learning is a lot more fun when you don't have to do it on your own. Social learning (and informal learning in general) makes up 90% of everything your employees learn at work. If your LMS can't tap into this font of knowledge, then you're missing a huge chunk of a very tasty pie. Talk to your LMS provider and see if they can provide a solution for social learning and if they can't, find a provider who can!
[us_separator type="default" icon="fas|star"]
Analytics & Reporting
How do you currently report on your learners' progress?
If you don't have an online learning platform, you could find that reporting on your learners' progress is a complicated and drawn-out process. You could improve matters by creating a shared document online and inviting all of your branch managers to input their learners' results. This, however, isn't a perfect solution.
Look at reporting on your LMS
Any LMS worth its salt will have some reporting tools that will give you all sorts of information including completion rates, logins and assessment scores. Despite its importance, a lack of adequate reporting tools is one of the key reasons people decide to change their Learning Management System.
Look at your groups and categories
A good reporting suite will let you filter your results by regions or departments. Take a look at how your learner groups are configured – do they follow a set rule or have they been created on an ad-hoc basis. If you think your groups could be tidier, add this to your to-do list.
Set up scheduled reports
How much of your time have you lost in the last year by running the same reports over and over? A robust reporting tool can also let you schedule regular report emails.
If you have an LMS how often do your learners log in?
One of the best indicators of your LMS' efficacy is how often your learners return. If you have a problem with engagement, you need to give your learners an incentive to come back for more.
[us_separator type="default" icon="fas|star"]
Planning your training strategy can be quite the juggling act, but with the right tools and enough support, anything is possible. At Growth Engineering, we help learning professionals engage their learners and secure a measurable ROI with online learning.
Get in touch with a member of GE-Squad today and find out how we can help you!