Growth Engineering have won Gold for Unique or Innovative Learning and Development Program!
Growth Engineering and GAME have won another award, their fifth in just three years!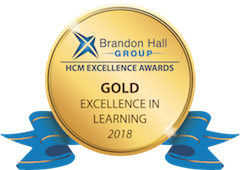 The most recent Gold was awarded to the GAME Learning Zone LMS at the annual Brandon Hall HCM Awards.
The big announcement came via webinar on Thursday 23rd August. The judging panel consisted of leading industry experts and analysts, some of whom work for Brandon Hall Group as analysts or executives. The entries were evaluated based upon the following criteria:
Product: What was the product's breakthrough innovation?
Unique differentiators: What makes the product unique and how does it differ from any competing products?
Value proposition: What problem does the product solve and/or what need does this product address?
Measurable results: What are the benefits customers can expect to experience as a result of using this product?
Rachel Cooke, Chief Operating Officer of Brandon Hall Group and head of the awards program, was impressed by the innovative products submitted to the awards:
"Excellence Award winners personify innovation that drives business results. Our winners embrace the future and embrace change and the challenges that go with it."
This is great recognition for everyone involved. Growth Engineering and GAME worked extremely hard to ensure that GAME Learning Zone reflected the GAME brand, was fully customisable and engaged all their employees.
The recognition meant a lot to the GAME team, particularly Craig Mills, GAME Learning Manager:
"Growth Engineering have given us the tools to push the boundaries of gamified learning, so we can continue to create an enjoyable experience for whoever visits our site."
Our very own Ideologist in Chief, Juliette Denny, was also over the moon:
"I am super delighted for everyone at GAME to have been recognised with this amazing award. The team have worked incredibly hard to perfect the system and ensure the brand shines through GAME Learning Zone. The results just speak for themselves!
Since it's launch in April 2015, GAME Learning Zone was a phenomenal success. Their 3,600 learners logged in more than 40,500 times! Within the first week of launching, 822 pieces of content were completed. 80% of learners completed the training within the first week being made available to them. 98% of learners completed the training within the first week.
September 2015 saw the first Brandon Hall Gold win for Growth Engineering and GAME. We won the Excellence Award for Best Use of Learning and or Talent Technologies.
This match made in gaming heaven has additionally seen wins in the E-Learning Awards and the Training Journal Awards.
GAMES successful training program has essentially lead to a 19% increase in the number of customers who have wanted to praise staff. We're pretty sure this is down to staff engagement!
This is a great accomplishment for everyone at GAME and Growth Engineering! We're super excited to see what the future has in store for everyone involved and to continue taking the awards world by storm!
For more information on our award winning LMS, please click here for a free demo!