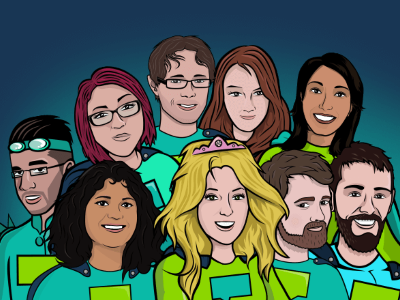 It's nearly over, but boy, it's been an epic year!
2018 was the year of the World Cup, a Royal Wedding and the Falcon Heavy launched back in February.
The year's about to get a little bigger as this is our annual article round-up! It's the perfect time to look back over the past year and celebrate our achievements and get excited for what the future has in store.
As an end-of-year treat, put your feet up and relax as we reminisce with ten of our top articles from this year.
---
"How many times has someone told you the future of L&D is mobile?
Well, they're wrong…
Ever since mobile usage surged ahead of desktop usage, mobile stopped being the future and became the present."
The move towards mobile learning has easily been the biggest trend of the year. In this article, you'll learn everything you need to know about the difference between a mobile responsive LMS and a mobile learning app.
---
"No one can know what the future will look like. But this report arms you with the insight you'll need to inform your decisions and incorporate gamification into your business strategy."
Gamification is no longer an optional extra for L&D, instead, it's an essential requirement of any behaviour change campaign. In this article you'll find out what sic gamification gurus have to say about what the future has in store.
---
"The study of endorphins has told us this: Learning leads to happiness and happiness leads to learning. Endorphins are the body's very own natural feel-good neurotransmitters!"
Do you like to feel good? Of course you do! It's largely thanks to endorphins, in this blog you'll find out what endorphins have to do with learning and knowledge retention.
---
"A training needs analysis gives you all the information you need to hone your L&D strategy into a well-oiled machine."
There are some things that everyone who works in L&D needs to know about. A Training Needs Analysis comes very high up that list. In this article we explore why a training needs analysis is important and provide a very helpful, super practical guide to doing a Training Needs Analysis.
---
"Instructional design can be a tool for changing the culture of your organisation."
This article covers everything you need to know about Instructional Design. And answers all the big questions, including:
What is an Instructional Designer?
What is the Addie Framework?
What Qualities do Instructional Designers Need?
What Learning Theories Should you Know?
What are the Challenges Facing Instrucitonal Design?
What is the Future of Instructional Design?
---
"Inside you'll find 5 frighteningly brilliant examples of bad online learning to give you shivers!"
Online learning done badly can be a terrifying affair. Read this article for a terrifying assortment of eLearning horror stories. Is there anything more chilling than colourless training that never seems to end? If so we've not come across it!
---
"The Digital Age has ushered in a new, super-intelligent economy: The Knowledge Economy! It's the economic equivilant of your friend that's annoyingly great at everything…"
People traditionally think of economics in financial terms. But increasingly people are talking about a new type of economy: the economy of brainpower. In this article, we take time to explore what this economy of brain power looks like and what it means for those who work in L&D.
---
"Self-Determination Theory is the wonderful brainchild of psychologists Richard Ryan and Edward Deci. They identified the key ingredients needed for intrinsic human motivation. It's the secret sauce that helps people enjoy exercise, motivates them to complete a video game in record time and even fall in love with learning!"
Self Determination Theory explains that Competence, Autonomy and Relatedness come together to create the ultimate engagement dream-team. In this article you'll learn all about Self-Determination Theory, how it relates to learning and development and whether its still applicable in todays world.
---
"Netflix is not just a streaming site. It's an actual movement within the entertainment industry. Just like any movement, there's lots of inspiration we can take for gains within our own industry."
A platforms User Interface, or UI, is increasingly important. In this article you'll discover four things you can learn from Netflix and apply to your own training.
---

"So, jump into your TARDIS, or charge your Delorean with 1.21 gigawatts, and let's journey into the future of the Learning and Development trends of 2019…"

As we come to the end of 2019, it's the perfect time to reflect on what the future holds. In this article, we explore three key trends that are going to be big next year. Have a read and stay ahead of the curve!
---
Another year nearly over and thousands of words, articles and training ideas shared with the world! These are our top ten, but what were your thoughts?
One thing's for sure, 2019 is going to be a great year. So make sure to keep in touch with us at Growth Engineering. Why not connect with us on social media? Or alternatively, click here to reach out and get in touch!