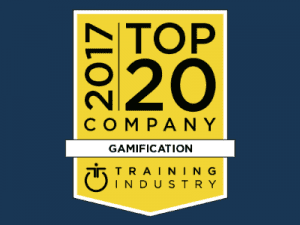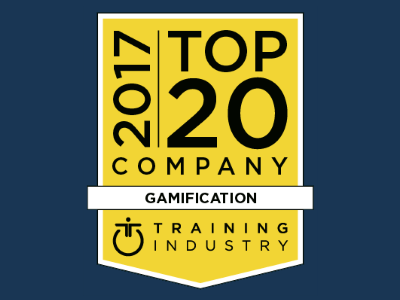 We feel on top of the world right now at GEHQ… The gamification world to be exact! Why? We've only gone and made it onto Training Industry's list of Top 20 Gamification Companies 2017! This is the third year running that we've featured on this prestigious list.
The Training Industry Top 20 recognises the world's best providers of gamification services and technologies, which support learning and development. The list isn't ranked, so we could very well be first place (as fans of all things gamification and leaderboards, we like to think we're at the top!).
Now we're off to cover ourselves in Praise Badges, stick on our favourite celebration playlist and dance our superhero socks off in pure glee!
Read on for all the details about the Top 20 and why we're officially one of the best gamification companies in the world.
Training Industry Top 20
Training Industry constantly monitors the training marketplace in their hunt for the best providers of gamification services and products. The final Top 20 Gamification Companies 2017 was based on a strict set of criteria:
Features and capabilities of the gamification products/services
Company size and growth potential
Quality and number of clients/users
Geographic reach
Awards, recognition, and competitive differentiation
This means Training Industry think we're one of the best companies in the world to turn to when you need a gamified training solution. Let's find out why!
Why We're A Top 20 Gamification Company 
Gamification is a key element in successfully engaging learners and creating lasting behaviour change. It taps into learners' urge to collect rewards, be recognised for their achievements and have fun whilst learning! This is why we put gamification at the heart of all we do, from our gamified Academy LMS to our brand new Knowledge Arcade app.
On top of this, we work closely with our customers to create a fully personalised training solution that meets their specific learner needs and business goals. This ensures they can get the most from their gamified learning platform.
Let's take a closer look at how gamification works in two of our key products:
Academy LMS
The Academy LMS is our fully-gamified learning management system and it's what we're best known for. It is jam-packed with gamification features including Experience Points, Badges, Levels and Leaderboards. These features combine to create an engaging and social training platform that keeps learners coming back for more!
The Knowledge Arcade
The Knowledge Arcade is an engaging learning environment condensed into a mobile app. It is packed full of gamification features, such as virtual rewards and knowledge battles where learners can pit their wits against each other. It even includes access to our game-based content creator Genie (which also made it onto Training Industry's Top 20 Content Authoring Companies List 2017!).
Read more about how our awesome customers use our learning technologies here!
GAME's Craig Mills on how GAME used Growth Engineering's gamified Academy LMS to transform their company training.
Final Thoughts
With all the awards we've won recently you'd think we may be running out of celebration steam and exclamations of pure joy. Far from it!
Our Ideologist in chief, Juliette Denny wasn't just on top of the world, she was over the moon to hear the news:
"It's absolutely terrific to be on Training Industry's Top 20 Gamification Companies List 2017 once again. This is the third time we've made the list and we couldn't be happier. Training Industry recognise the vital role gamification plays in creating learner engagement and lasting behaviour change. So it's awesome to be recognised for our expertise and passion for gamification.
When done right gamification can transform your training! However, it's not just about turning everything into a game or adding gaming mechanics to the same old training you had before. What's really important is to develop a gamified strategy and platform that resonates with your company vision, values and learners' needs. This is why we work closely with each and every customer to ensure we create a personalised platform that their learners love!"
Check out Juliette talking about gamification below:
You can read more about Juliette's thoughts on gamification here.
If you're eager to learn more about how to use our award-winning gamified learning technologies to engage your learners, click here to download our Gamification Tip Sheet.