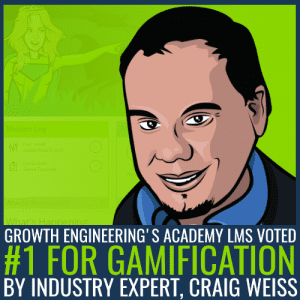 "Was there any doubt?" – Craig Weiss
It's that time of year when Craig Weiss, human learning tech encyclopaedia, delivers the final word on what's hot and what's not in the world of learning platforms. After recently announcing his list of the top 5 LMSs overall, he's just released his drill-down of the top 3 LMSs in mobile, social, video and gamification.
Here at Growth Engineering, we've been so busy relocating to a new HQ that we almost missed the announcement, but you can imagine our joy when we found out that the Academy LMS was ranked the #1 LMS for gamification! The best thing is that now we've got even more space to do our victory dance!
[us_separator type="default" icon="fas|star"]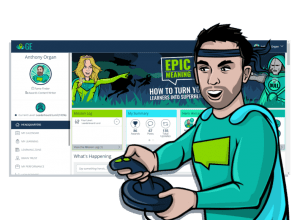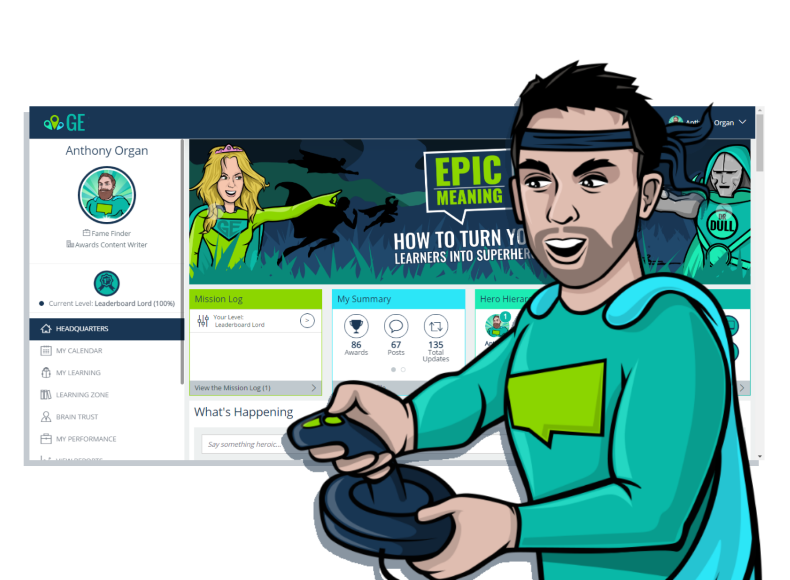 Craig based his judgement on whether the LMS has the following features:
A reward centre
A built-in badge library
The ability to compare individuals, managers and teams
Game based learning / learning games
Social functionality linked to gamification.
These recent successes in Craig Weiss' rankings keep the momentum going in what has already been a gong-filled 2017! They come hot on the heels of our double-victory at the Learning Awards and our placement on Training Industry's 2017 Top Authoring Tool Companies List.
"The LMS world is changing before our eyes.

For the better." – Craig Weiss
Why are we still top of the pops for Gamification? Here are just a few reasons:
[us_separator type="default" icon="fas|star"]
Pioneering Gamification in Learning with The Academy LMS
A lot of LMS providers added game mechanics to their otherwise yawnworthy learning platforms when they realised how engaging they can be. That's lovely and all, but underneath all of those badges is still the same beige LMS that doesn't get results.
Recently voted in the top 3 LMSs by the man himself, we built the Academy LMS with gamification and social functionality at its core. Every piece of content, assessment and action on the Academy can be gamified, from simple things like adding points, to finding the subject matter experts in the business.


[us_separator type="default" icon="fas|star"]
Making Game-Based Learning a Reality with Genie
Having a fully gamified LMS will only take you so far, especially if you're pushing mind-numbingly dull content. Having led the charge in the field of learning management systems, we rose to the challenge of making game-based learning a reality, even if you don't have a whole team of game developers!
Genie, like the Academy, is a learning tool with gamification in its DNA. It's a fast, user-friendly authoring tool that makes it easy to add points, badges and wildcards to any learning asset. That's not all – with Genie, you don't just export a glorified slideshow: You can choose from a huge library of game templates and, with a few little clicks, create your own learning game!


[us_separator type="default" icon="fas|star"]
Changing Behaviour with The Knowledge Arcade
The L&D community need to face the facts: nobody has time for huge eLearning units anymore. Not only that, they don't have the attention span for massive information dumps. They need a new way to engage their learners and get actual results.
Later this year, we're releasing the Knowledge Arcade, a Game Based Mobile Learning Platform that uses game mechanics to change behaviour. It doesn't just change learner behaviour – it's going to change the way learning managers think about delivering learning content. In one fell swoop, it'll deal with engagement, knowledge retention and behaviour, and all in the palm of your learners' hands!


[us_separator type="default" icon="fas|star"]
It all sounds really exciting, doesn't it!? Here at GEHQ, we deal with gamified online learning all day, every day, and we've yet to lose out passion for it! If you want to know why we're convinced that games can save online learning, check out our white paper by clicking the button below!