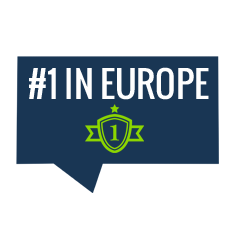 We're head-spinningly delighted to announce that Craig Weiss – a leading authority on eLearning and author of E-Learning 24/7 Blog – has awarded Growth Engineering 2nd place in his 2014 list of the world's best Learning Management Systems!
You may already be familiar with Craig Weiss; he's the US-based eLearning expert and thought leader who releases his 'Top LMS' lists every year. This year saw 580 platforms undergo scrutiny in an extensive reviewing process, so we really do have something impressive to shout about.
Craig's report highlights the 'modern, crisp interface' of the Platform, the fact that it's 'fun to use' and that it ties 'gamification into succession planning'. We knew gamification was the way to go – it really drives learner engagement and gets results!
We could not have made it to this enviable position without our lovely client partners – thank you, thank you, thank you for your passion and belief in us!
So, #1 in Europe and #2 in the world – bloomin' marvellous! But you know what is even better than that? Our Academy is the highest ranking LMS with gamification features, meaning that our gamified Academy Platform LMS is officially the best in the world. How's that for an incredible start to 2014!?
We've just managed to get our Chief Ideologist (aka Managing Director), Juliette Denny, down from ceiling where she was dancing. She says: "Amazing! Our goal is to shake up the eLearning landscape and revolutionise learning, making it fun again, so it's fantastic to be voted the best LMS in Europe – not forgetting the number 1 gamified LMS in the world!" Off she pops to celebrate some more.
There you have it. Number 1 in Europe, number 2 in the world and the best gamified LMS out there. We won't stop until the world realises that eLearning doesn't have to be dull and boring. We're going to war and we're fully armed! Come join our crusade.
Click to read Craig's blog.
Want a tour around the world's best gamified Learning Management System? Click the button below!
[hs_action id="4973″]