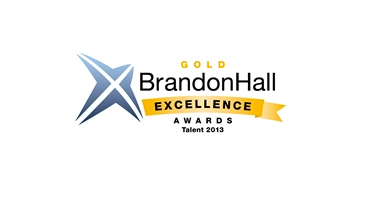 Growth Engineering, in association with Spicers – Europe's leading wholesaler of office merchandise – have beaten hundreds of others to win a Gold award in the Brandon Hall awards for Best Use of Learning and Talent Technologies!
With more than 10,000 clients globally and 20 years of delivering world-class research and advisory services, Brandon Hall Group is the most well-known and established research organisation in the performance improvement industry. The Brandon Hall Excellence Awards have an international reach and provide exposure for some of the most innovative programmes in the online learning industry.
The entries were evaluated by an international panel of independent industry experts based on standards of performance support, effectiveness and efficiency of training employees on new and existing products, and integration with the customer relationship automation system (CRM).
Spicers and Growth Engineering were selected as Gold winners for the creation of Spicers Academy and the rollout of online certification training on product, industry and soft-skills knowledge. Spicers Academy acts as a central hub, where 2,500 independent office product dealers can access accredited sales training and videos from suppliers relating to their products and promotions. The Academy has had a significant impact on hundreds of Spicers salespeople, with test results showing a post-learning increase in sales knowledge of 24.7%, improving levels of commercial excellence.
Jeanette Bresitz, Marketing Director of Spicers, said: "It has been a pleasure to collaborate with Growth Engineering in developing Spicers Academy. It has been so useful for expanding our dealers' knowledge and improving sales performance across the board."
Juliette Denny, Growth Engineering Managing Director, said: "I can't tell you how thrilled we are to receive the Gold award in association with Spicers. It's wonderful to work with such a great company whose dealers are so eager to make the most of their Academy."
To find out more about Growth Engineering's work with Spicers, read the case study here.
For a full list of winners visit: http://brandonhall.com/excellence-awards-overview.php