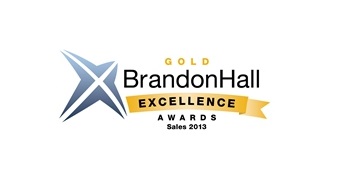 Growth Engineering, in association with Aggregate Industries, have beaten hundreds of others to win a Gold award in the Brandon Hall awards for Best Program for Sales Training and Performance!
With more than 10,000 clients globally and 20 years of delivering world-class research and advisory services, Brandon Hall Group is the most well-known and established research organisation in the performance improvement industry. The Brandon Hall Excellence Awards have an international reach and provide exposure for some of the most innovative programmes in the online learning industry.
The entries were evaluated by an international panel of independent industry experts based on standards of performance, measurable business results and levels of innovation, and Growth Engineering were joint winners, alongside HP and Prudential.
Aggregate Industries and Growth Engineering were selected as Gold winners for the creation of Aggregate Academy and the rollout of accredited online training from the ISMM, including Level 3 and Level 4 Certificates and Diplomas, across the organisation's sales force. This two-year programme has had a significant impact on hundreds of Aggregate Industries salespeople and sales managers across the UK and Europe, improving levels of commercial excellence.
David Butterfield, Head of Learning and Development at Aggregate Industries, said: "I'm absolutely delighted. How wonderful to have all our hard work acknowledged by a prestigious awarding body. It's testament to a great team and a great supplier relationship!"
Juliette Denny, Growth Engineering Managing Director, said: "Wow! Growth Engineering are overjoyed to receive the Gold award in association with Aggregate Industries. It's a pleasure to work with such a great company whose employees are so eager to utilise the Academy and learn new skills."
To find out more about Growth Engineering's work with Aggregate Industries, read the case study here.
For a full list of winners visit: http://brandonhall.com/excellence-awards-overview.php